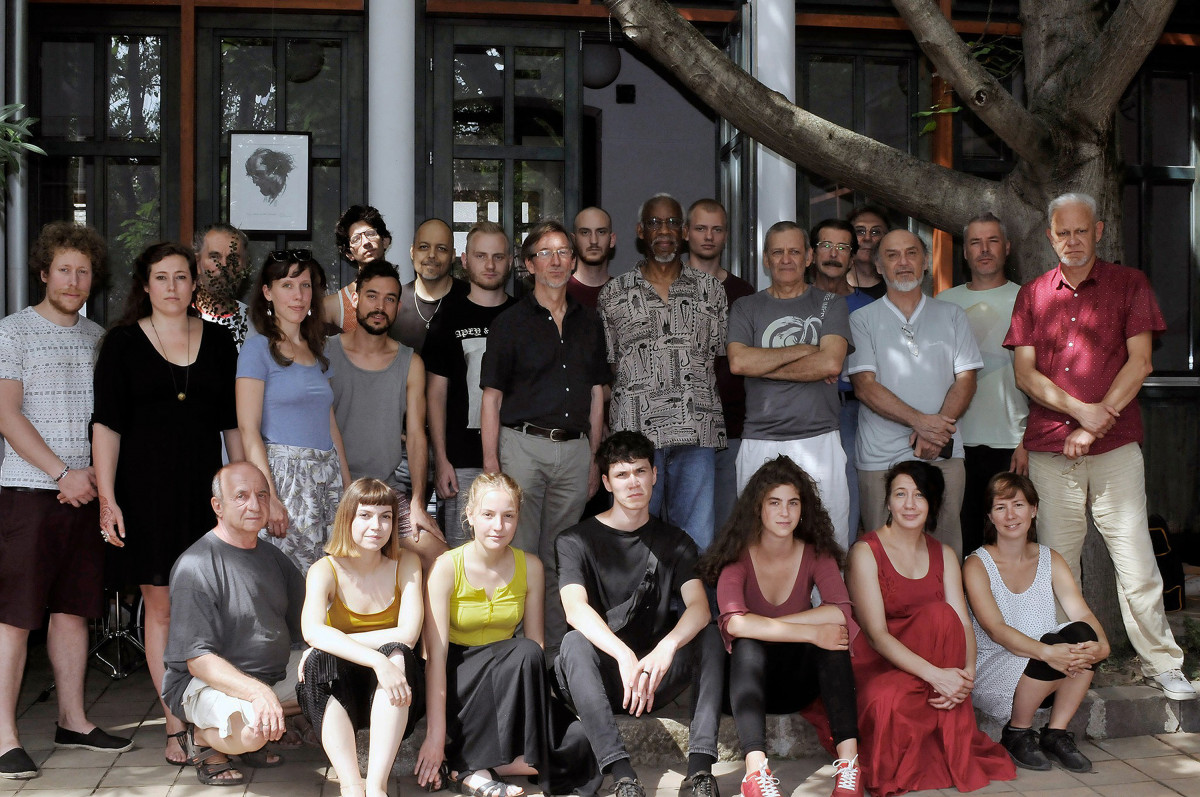 Featuring:
Bettika Bakos - vocals
Zsófia Németh - flute
John Oslansky - soprano saxophone
Lőrinc Pantali - alto saxophone
Bence Pantali - violin
Nóra Krokovay - cello
Bence Dóczi - guitar
Boldizsár Hoffmann - synthesizer
Zoltán Sándor Kováts - double bass
Vilmos Schneider - double bass
Péter Lukács - drums
-
István Grencsó - clarinet
Máté Pozsár - piano
Róbert Benkő - double bass
Szilveszter Miklós - drums
-
Gabi Medgyesi - film
This year, the Adyton Free Music Community celebrated its fifth anniversary. Among other activities, the members gather each August in Nagymaros or a few days, to focus on different aspects of free music together, while each December they organize Adyton Christmas where they disclose their experiences of the summer camp and also commemorate the legendary Kassák Christmases led by the late György Szabados. This is the second time that Opus Jazz Club hosts the event, where the Grencso Collective Circle and invited participants of the summer reunion will give a concert, preceded by a short documentary film by Gabriella Medgyesi, recalling the events of this summer in Nagymaros.
"The fifth Adyton free music workshop was the first one I was involved with. The experience re-confirmed for me that free improvisation is in fact, at its core, creative association: We can only improvise freely with those who are willing to associate with us creatively. The question was this: How can a workshop bridge the different perspectives and levels of experience in performance and practice, in a way that allows all of us to participate and develop our own sense of what free improvisation can be and help us to become? It comes to this—from the most technically complex performances to basic human relations: Bring your heart and bring your ears. Be ready to play from the heart and listen for everyone. Music is in the air at all times, and we are free to pluck it together while we can, in a way that helps us all know that the music remains with us and without us.
It is in our hearts that we feel the presence of the music, and it is through our ears that we commit to one another. We can make many types of music without listening to one another well. But we cannot improvise freely together without the commitment to listen as deeply as we can to one another. One way to think of it is as a spiritual practice.
I think we had a tremendous time. Knowing that we would be together for four days helped us to be open to trying different things and seeing what worked and how it worked. We knew we could ask questions and exchange ideas." Lewis Jordan
---
This concert is supported by NKA Hangfoglaló Program.
Tickets are available for 2500 HUF on the spot, online at bmc.jegy.hu,
and at InterTicket Jegypont partners across Hungary.
Table reservations are automatically added during ticket purchase.
For the best dining experience please arrive around 7pm.
We hold reservations until 8pm.
For more information, please call +36 1 216 7894
℗ BMC