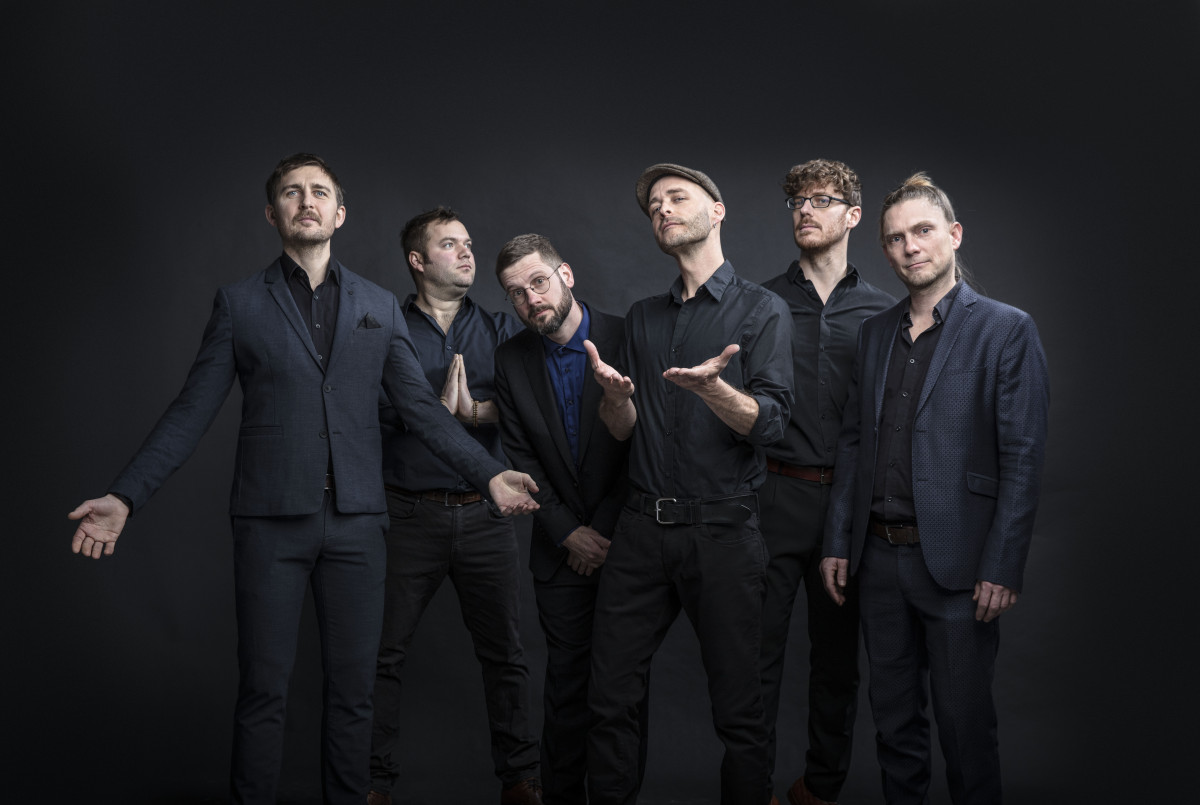 CANCELLED | Andreas Schaerer & Hildegard Lernt Fliegen (CH)
Featuring:
Andreas Schaerer - voice
Andreas Tschopp - trombone
Matthias Wenger - flute, soprano and alto saxophone
Benedikt Reising - baritone and alto saxophone, bass clarinet
Marco Müller - double bass
Christoph Steiner - drums, marimba
Andreas Schaerer, from Switzerland, is one of the most talked-about vocal artists on the international music scene, and with good reason. He is considerably more than just a singer - and to classify him under jazz doesn't really do him justice either. Schaerer uses his voice in the manner of a juggler, a magician. He can not only make it sound forth in contrasting stylistic idioms and vocal registers, (switching at will from songster to crooner to scatter), he can also produce all kinds of sounds and imitate a whole range of instruments. He can do beatbox percussion, or he can stack up polyphonic vocal parts on top of each other in a way which seems unfeasible. In addition to all that, he is also a hugely impressive composer and improviser, skills which he can bring to bear on all kinds of musical projects, where his virtuosity can be the key ingredient, either providing melodic form or rhythmic impetus. And his skills don't stop there. He has considerable on-stage charisma, and also brings a rare gift into the world of 'serious' music: humour, which is the stock-in-trade of his main band Hildegard Lernt Fliegen (meaning Hildegard learns to fly).
Fans of the old Hildegar are faced with a very different prospect with the new album The Waves are Rising, Dear!, what will be performed at the Opus Jazz Club as a part of the album debut tour. As the title of the album suggests, it is a more serious work, a concept album, on which Schaerer has taken the band's characteristic sense of instrumental playfulness, combined it with his own, almost classically clear vocal timbre, produced without any trickery. And he has put both of these elements to the service of poetry and to the task of thinking about things more deeply. "Our last album with just the band was six years ago, and we have moved on since then," comments Schaerer, giving the background to the change of approach. "We live in times that are full of possibilities but there are also tensions, and we face big questions and challenges. The confluence of all these external factors has influenced the work of composition, the lyrical content, and music in general as I hear it today." However, the songs do still keep their secrets and Schaerer wants to leave some level of ambiguity in place: "Each piece is based on very specific personal thoughts. But I don't want to comment on them too explicitly, and would rather leave the listener the scope to reach their own interpretation. The album is deliberately conceived in such a way that a listener can bring their own stories. Maybe even their entire life-history can become part of the dramaturgy" says Schaerer.