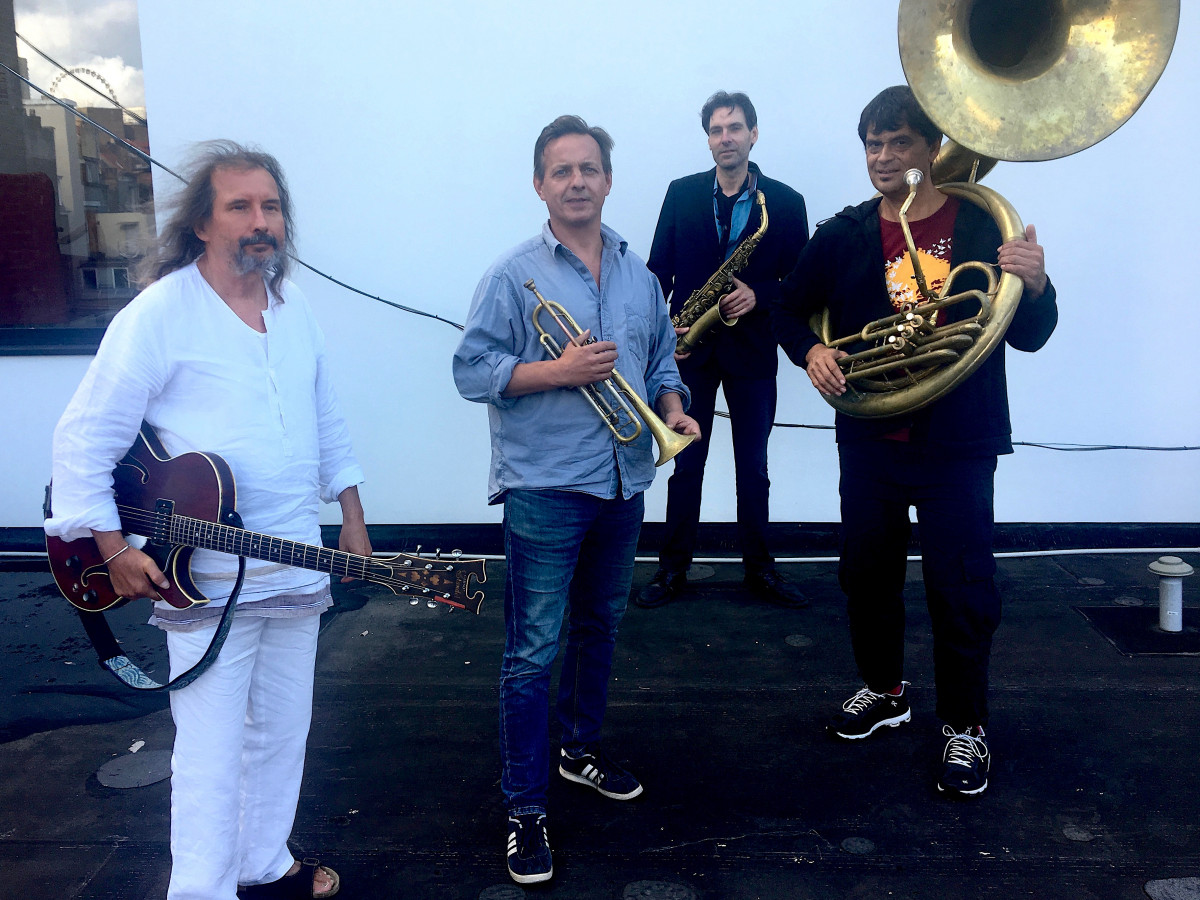 Flanders on the Move | Gábor Gadó Belgian Quartet (HU/BE)
Featuring:
Gábor Gadó - guitar
Ben Sluijs - saxophone
Laurent Blondiau - trumpet
Michel Massot - tuba
Guitarist and composer Gábor Gadó is known for transmitting his latest ideas through a diversity of lineups, both at concerts and on records. Back in 1997 he already formed a quartet once without the traditional jazz rhythm section consisting of drums & double-bass, and has since been engaged in the idea of creating such a group again.
One of Gadó's long-time music partners is Belgian trumpeter Laurent Blondiau who is one of the founders of the long-established Flemish group Mâäk's Spirit which performed at Opus in 2016. In recent years Gadó and Blondiau have released a duo album on BMC Records and had numerous concerts all around Europe. In Belgium, the strong culture of wind instruments as well as the strong affinity to lineups doing away with the rhythm section got Gadó to form a new quartet with Blondiau and two of his long-time fellow-musicians, the saxophonist Ben Sluijs and tuba player Michel Massot (known from Trio Grande which performed at Opus this spring with Flanders on the Move), finally making his old idea come true.
Gadó and his quartet pay homage to one of the most important composers of the 20th century, Alfred Schnittke – without actually playing anything from his oeuvre. Their tribute, according to Gadó, "is realized in terms of the starting principle, similar to ignite a torch form another one's flames: the fire itself is the same – but there are two torches burning."
Tickets are available for 1800 HUF on the spot, online at bmc.jegy.hu,
and at InterTicket Jegypont partners across Hungary.
Table reservations are automatically added during ticket purchase. We hold reservations until 8pm.
For more information, please call +36 1 216 7894
℗ BMC