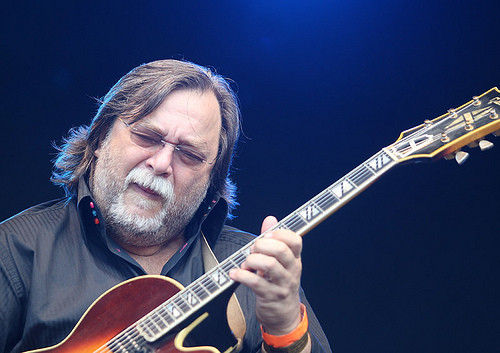 Gyula Babos' Makrokozmosz
Featuring:
Babos Gyula - gitár
Winand Gábor - ének, szaxofon, fuvola
Fekete-Kovács Kornél - trombita, szárnykürt
Orbán György - nagybőgő
Czirják Tamás - dob
"Guitarist Gyula Babos, one of the iconic figures of the Great Generation of Hungarian jazzmen who successfully transplanted jazz-rock fusion into a Hungarian context during the 1970s and 80s, was never one to rest on his laurels. His innate love of challenges drove him to enrich his musical vocabulary further by drawing on his Roma heritage, on mainstream jazz, on classical and even Indian music.
In his Macrocosmos the musicians express themselves in the language of contemporary improvised art, pushing the boundaries of jazz even further while keeping the music accessible. He has always managed to pick his fellow musicians best suited for the purpose. This quintet includes singer, saxophonist and flautist, Gábor Winand, one of the most original jazz-vocalists in Europe who sings and plays what one might term as 'free-bop'. The trumpeter, Kornél Fekete Kovács, himself a great experimenter, is the leader of Hungary's internationally acclaimed big band, the Modern Art Orchestra. György Orbán is probably the most sought-after bass-player in the country, while drummer Tamás Czirják is one of the brightest newcomers.
Babos, understandably, claiming the European tradition as his own, has created a loose framework with his compositions based on Bartók's 'Dances in Bulgarian Rhythm', within which he and his fellow musicians can enjoy a great deal of freedom. This combination of spontaneity, invention and freedom coupled with self-discipline demands the highest standard of musicianship which is unerringly present throughout the album, all the more remarkable for it being a live recording." wrote Péter Pallai about the group's album Babos' Macrocosmos, released last year on BMC Records.
Jegyek 1300 forintos áron kaphatók a helyszínen,
az InterTicket országos JEGYPONT hálózatában, valamint a jegy.hu oldalon.
Kérjük Önöket, hogy az Opus Jazz Clubba
váltott jegy mellé ne felejtsenek el asztalt foglalni!
Asztalt jeggyel, internetes jegyváltás esetén utalványazonosítóval rendelkező vendégeinknek tudunk foglalni.
Az asztalfoglalásokat legkésőbb 21 óráig tudjuk fenntartani!
Közvetlenül koncertkezdés előtt történő jegyvásárlásnál vendégeink a meglévő asztalokat érkezési sorrendben foglalhatják el.
Telefon
+36 1 216 7894