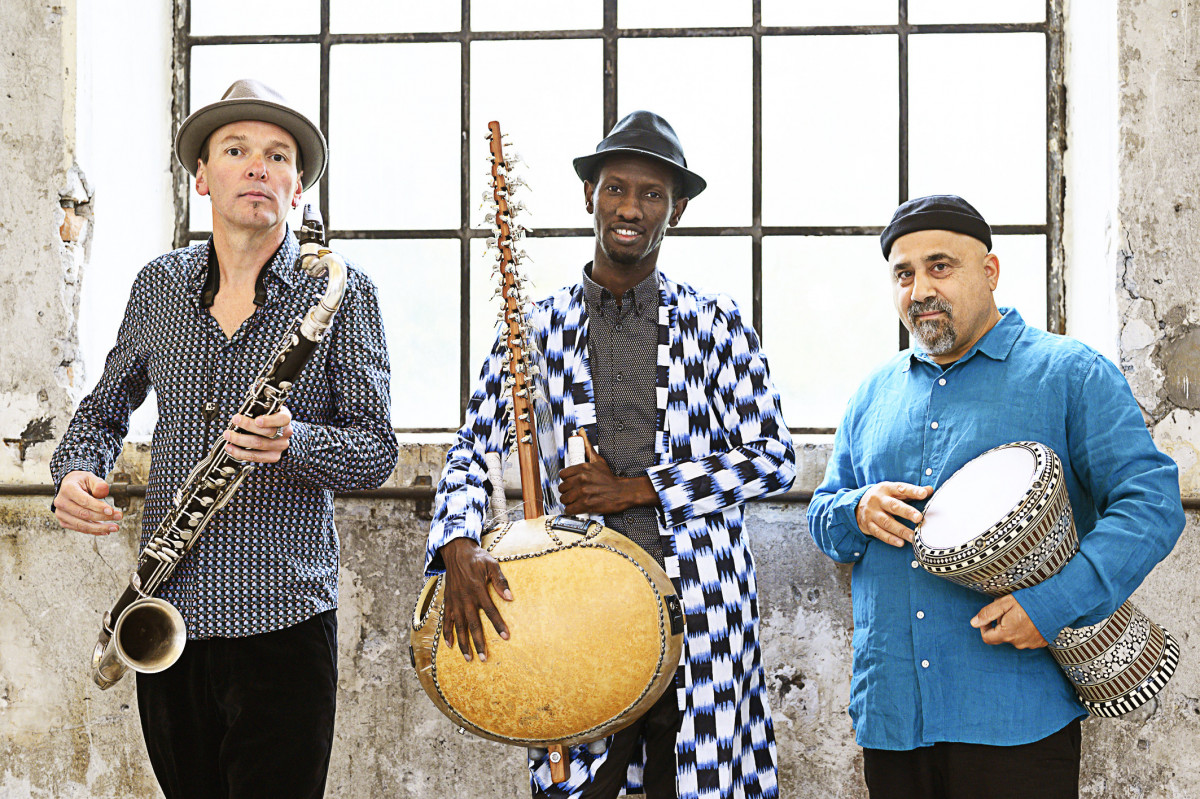 JMO Jan Galega Brönnimann – Moussa Cissokho – Omri Hason: Three Countries One Language (CH/SN/IL)
Featuring:
Jan Galega Brönnimann - contra alto clarinet, bass clarinet, soprano saxophone
Moussa Cissokho - kora, vocals, talking drum
Omri Hason - percussion, hang, kalimba
Special guest: Zoltán Lantos - violin
The music of JMO – Jan Galega Brönnimann (Switzerland), Moussa Cissokho (Senegal) and Omri Hason (Israel) is a reminiscence of the art of storytelling. The trio creates a tension of traditional and modern music from Africa, Europe and the Middle East. The sparkling sound of the kora (African harp with 26 strings) meets the warm tone of the bass clarinet and the oriental percussion instruments. The title of their second release, Tandoula Tala means "no borders" in Mandinka, a language spoken in Gambia, Mali and Senegal. The songs are written by the three musicians and reflect their different backgrounds. At their unforgettable live concerts, the three musicians oscillate between magically transfigured moments and rhythmically explosive heights. Listening to the music of JMO is a real adventure, thanks to the merging of different musical traditions, the band's unique line-up and the wealth of ingenious melodies and rhythms.
Jan Galega Brönnimann works as a freelance musician (saxophones, bass, contrabass and contralto clarinet, and electronics) and composer. He has been active in the scene for years and is known for his innovative and cutting edge collaborations. As a composer and instrumentalist, he has worked with Nils Petter Molvaer, Sidsel Endresen, Pierre Favre, Saadet Türköz, Eddie Floyd, Eivind Aarset, Round Table Knights Baba Salah, Aly Keïta and Kenny Werner. Touring all over the world, he is best known as a frontman with his own band, Brink Man Ship, and his collaboration with the world beat trio A.Spell.
Prince Moussa Cissokho from Senegal is an exceptionally talented and skillful kora player, singer and composer. Born and raised in a famous traditional griot family, he had been taught by his father from a very early age, traveling to assist in traditional ceremonies in Senegal. By the age of 13, he was chosen for the National Ballet of Senegal. He toured all over Europe, Asia, America and Africa. Moussa Cissokho now lives in Austria and works with different musicians in Africa and Europe.
Omri Hason was born and raised in Israel. He started drumming at the age of ten, starting on the drum kit, and later gravitating to hand-drums: the zarb, the darbuka, and the frame drum. The rich multi-cultural environment of his background nourished his first musical passions. Later, the rhythmic language of India deeply influenced his playing, as did years of study with the Iranian master drummer, Djamchid Chemirani. He has lived since 1986 in Switzerland, teaching music, and recording and performing with various jazz and world music aggregations. Omri founded the groups Kedem Ensemble and Modus Quartet which feature musicians from several different musical cultures.
Tickets are available for 2900 HUF on the spot, online at bmc.jegy.hu, and at InterTicket Jegypont partners across Hungary.
Table reservations are automatically added during ticket purchase.
Please note that if you purchase an odd number of seats, you might have to share the table with others, especially if the concert is sold out.
For the best dining experience please arrive around 7pm.
We hold reservations until 8pm.
For more information, please call +36 1 216 7894
℗ BMC