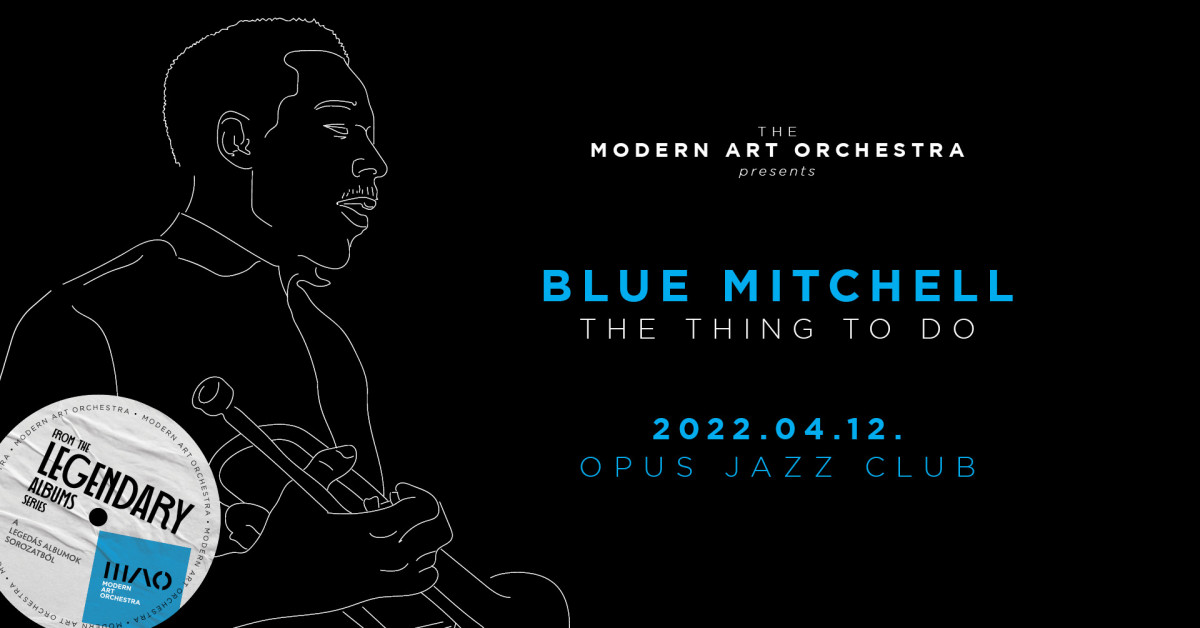 MAO - Legendary Albums | Blue Mitchell: The Thing To Do
Featuring:
Kornél Fekete-Kovács - trumpet
Bacsó Kristóf - saxophone
Gábor Cseke - piano
József Barcza Horváth - double bass
László Csízi - drums
Modern Art Orchestra's Legendary Albums series presents the most important and unique albums of jazz literature, performed by MAO. By learning and playing these compositions and arrangements, the musicians are paying tribute to the jazz legends and are undergoing an intense process of musical improvement. The band absorbs the material of the original recordings, sticking to the arrangements, forms and compositional features. As improvisation is the blood of jazz, solos are invented by the players at the moment. Due to the respect shown towards the original conceptions of the legendary composers and the level of craftsmanship known from Modern Art Orchestra, the Legendary Albums series both brings you the essence of jazz tradition and guarantees a fresh musical experience.
Blue Mitchell: The Thing To Do
Blue Mitchell was a versatile trumpet player and composer who could eloquently navigate between jazz, funk, R&B and soul. In spite of being less known than some of the iconic heroes from Blue Note, it would be a mistake to leave this hard bop gem laying on the ground as he is not inferior in his intellect, or technical abilities to any of his celebrated contemporaries.
Mitchell's trumpet sound is rather simple, but in a noble way. His intense style projects lyricism and power at the same time. His melodies and note choices prove his fluency in bop, without being forceful or superficial. Mitchell's solos are instinctive and earthy, lacking synthetic construction. The Thing To Do kicks off with Fungii Mama, a hard bop earworm composed by the band leader. Junior Cook tenor saxophonist's solo shows us that his style is impulsive and courageous, while remaining melodic. The sound of Cook's horn supports his attitude. Cook and Mitchell had been working together in the Horace Silver Quintet before Mitchell founded his own band.
Besides Fungii Mama, we will find two Jimmy Heath compositions on the record - out of which one is the title song -, a standard by Joe Henderson and also a Chick Corea composition. Chick plays the piano in Mitchell's quintet.
Gene Taylor bassist held common ground with the trumpetist and the saxophonist in Silver's band, but Mitchell had to find a substitute for Brooks on drums, and whom he found is none other than Al Foster.
The Thing To Do is a true Blue Note masterpiece, a stylish and cool manifestation of the hard bop philosophy. This is why we think while listening: "That's the thing to do!".
Tickets are available for 2200 HUF on the spot, online at bmc.jegy.hu, and at InterTicket Jegypont partners across Hungary.
Table reservations are automatically added during ticket purchase.
For the best dining experience please arrive around 7pm.
We hold reservations until 8pm.
For more information, please call +36 1 216 7894
℗ BMC