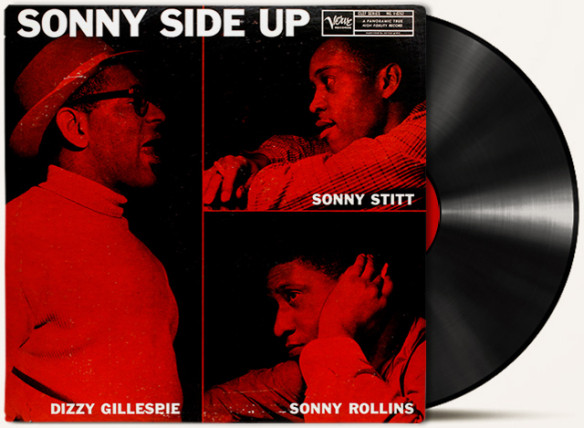 MAO – Legendary Albums | Dizzy Gillespie, Sonny Stitt, Sonny Rollins: Sonny Side Up (HU)
Featuring:
Kornél Fekete-Kovács - trumpet
Dávid Ülkei - tenor saxophone
Kristóf Bacsó - tenor saxophone
Gábor Cseke - piano
Ádám Bögöthy - double bass
László Csízi - drums
Members of the Modern Art Orchestra present a live concert performance of Sonny Side Up, the legendary album by Dizzy Gillespie, Sonny Stitt and Sonny Rollins.
Dizzy Gillespie brings together tenor saxophonists Sonny Stitt and Sonny Rollins for four extended cuts, and in the process comes up with one of the most exciting "jam session" records in the jazz catalog. While the rhythm section of pianist Ray Bryant, bassist Tommy Bryant, and drummer Charlie Persip provides solid rhythmic support, Stitt and Rollins get down to business trading fours and reeling off solo fireworks. Apparently, Gillespie had stoked the competitive fires before the session with phone calls and some gossip, the fallout of which becomes palpable as the album progresses. On The Eternal Triangle, in particular, Stitt and Rollins impress in their roles as tenor titans, with Stitt going in for sheer muscle as that most stout of bebop cutters and Rollins opting for some pacing as a more thematic player. Gillespie adds his own split commentary on the proceedings with a casual solo on After Hour and a competitively blistering statement on I Know That You Know. With an at ease rendition of On the Sunny Side of the Street rounding things out, Sonny Side Up comes off as both a highly enjoyable jazz set and something of an approximation of the music's once-revered live cutting session.
(Stephen Cook's AllMusic review)
Jegyek 2200 forintos áron kaphatók a helyszínen, a bmc.jegy.hu oldalon,
valamint az InterTicket országos Jegypont hálózatában.
Az asztalfoglalás a jegyvásárlás során automatikusan megtörténik.
Vacsoravendégeinknek 19 órai érkezést javaslunk.
Az asztalfoglalásokat legkésőbb 20 óráig tudjuk fenntartani!
Telefon
+36 1 216 7894
℗ BMC