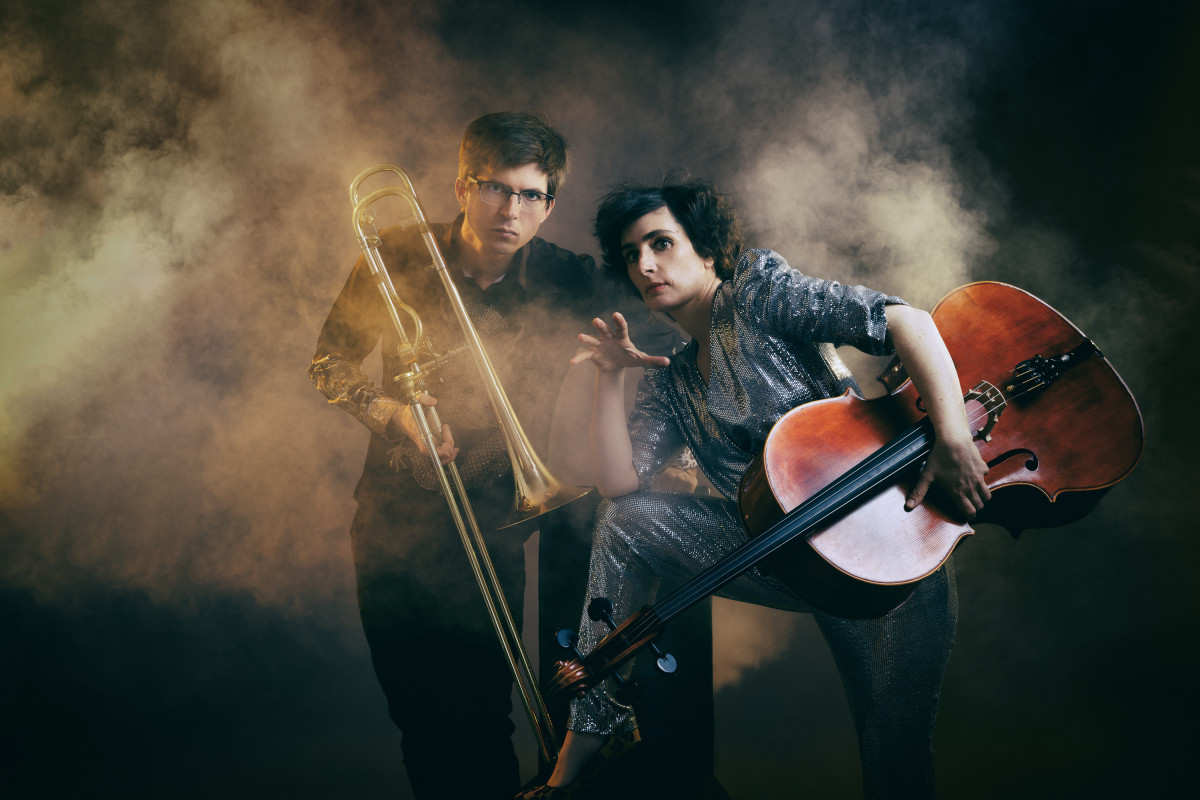 j(A)zz! | Sinfonia de Carnaval (AT)
Featuring:
Anna Lang - cello
Alois Eberl - trombone, accordion
"Jazz – drawing from the full variety" – Oberösterreichische Nachrichten
"Anna Lang and Alois Eberl fascinate" – Neue Presse Passau
"Two woofers create drama" – Salzburger Nachrichten
Sinfonia De Carnaval – this is Anna Lang and Alois Eberl on the cello, trombone, accordion, percussion, electronics and vocals. Inspired by the expressive sonorous discourse of Jazz or the elements of Rock and Funk, the duo fathoms electronic sound-universes as well as the complete spectrum of classical playing techniques.
In a brand-new programme with the titel Sweeping Dragon the virtuosic and distinguished duo team whisks you away to a world of storytelling. Stunning sound stories lead the audience into fantasy worlds or reflect real musical reports. Experiences, only dreamt or fantasy, are captured in tones with stupendous intrumental technique and inexhaustible creativity. The musical portraits, tales and euphonic snapshots find their musical expression in relentless grooves, brutal dramatic scenes, broad fields of improvisation and spontaneity.
With Sinfonia De Carnaval, Anna Lang and Alois Eberl present a further highlight of their numerous and varied programmes. Nominated for the BAWAG P.S.K. Next Generation Award 2015 as one of the best five bands, selected for the category Jazz by the Austrian Federal Ministry for the "New Austrian Sound of Music Programm 2018/19" and distinguished as one of seven bands from all contemporary genres with the Promotion of Excellence Funding from the Federal Chancellery of the Republic of Austria, the international springboard FOCUS ACT 2019. Sinfonia De Carnaval is an international guest in Switzerland, England, Iran, Kasachstan, Tadschikistan, Croatia, France, Italy, Israel, Palestine, Estland and Germany.
Tickets are available for 1800 HUF on the spot, online at bmc.jegy.hu,
and at InterTicket Jegypont partners across Hungary.
Hungarian immunity certificate is required for entering Opus Jazz Club.
Please note that masks are also required while visiting, except when consuming food and drinks.
Table reservations are automatically added during ticket purchase.
For the best dining experience please arrive around 7pm.
We hold reservations until 8pm.
For more information, please call +36 1 216 7894
This concert was supported, in line with the Government decree 1290/ 2020. (VI.5) related to cultural institutions, in order to ease the economic difficulties caused by the Covid19 pandemic.

℗ BMC