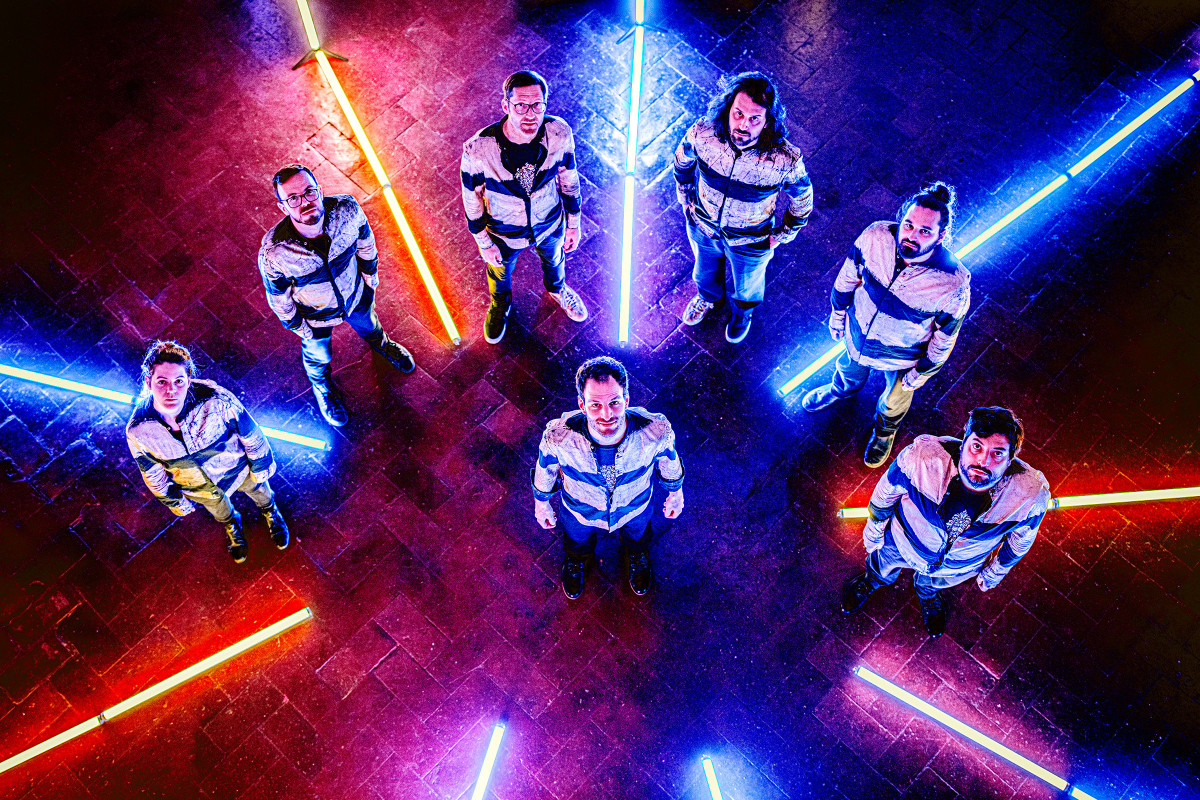 3 x j(A)zz! | Shake Stew (AT)
Featuring:
Lukas Kranzelbinder - double bass, guembri
Astrid Wiesinger - alto saxophone, stritch
Johannes Schleiermacher - tenor saxophone
Martin Eberle - trumpet
Christian Wendt - double bass
Nikolaus Dolp - drums, percussion
Herbert Pirker - drums, percussion
Austrian band Shake Stew has become something of a phenomenon. With their premiere at Jazzfestival Saalfelden 2016 and their following debut The Golden Fang they seemingly exploded into the scene out of nowhere. Since then, their high energy mixture of hypnotic Afrobeat and jazz grooves has made them enormously successful not only on home turf but across Europe. Led by rising star bassist Lukas Kranzelbinder they quickly became one of the hottest live acts on the circuit, while the impact of their second album Rise and Rise Again (featuring Shabaka Hutchings) enabled them to spread their unique sound further afield, including an extensive tour of Canada, Mexico, Morocco and stand out shows at prestigious festivals like Montreal, Rochester and North Sea Jazz Festival. The band has also attracted the attention of Germany's leading newspaper Die Zeit who, in an unusual move, sent one of its writers to spend 5 days with them to cover the formation's summer residence at Jazzclub Unterfahrt; the resulting feature was euphoric in its praise: "What I heard blew me away. Captivating rhythms, melting brass, hypnotic funk-beat-swing-afro-jazz-rock-rhythm-and-something. I was glued to my seat and could barely get up. […] Meanwhile, I know that other listeners had similar initiation experiences; something comes from this band that is new and special - and very attractive."
Riding on all this success, Shake Stew released their third studio album Gris Gris in November 2019. The album was soon awarded with the Preis der deutschen Schallplattenkritik for the first quarter of 2020 and was ranked as #1 album of 2019 by Jazzthing Magazine in their annual Best of. Further reactions included a front-page cover story in Jazzthetik Magazine as well as praise from The Guardian, MOJO, Der Spiegel, Jazzwise, Sunday Times, Radio France, and many more. In 2020 the band released their first live album (A)live! and went on to continue their impressive ascent when they were awarded the German Jazz Award in the category "Band of the year – International" in 2021. 2022 marks the release of their fifth album Heat as well as a change in personnel. The addition of Astrid Wiesinger on alto sax (replacing Clemens Salesny) has given the band an injection of new energy and we can hear the electricity buzzing on each track.
Shake Stew's unusual configuration of 2 drummers, 2 bass players and 3 horns is one of the key things that has made this 7-piece stand out. This instrumentation, which at first seems a little strange, seamlessly blends together, creating the trademark Shake Stew high-energy sound that their reputation has been built on. The addition of the Guembri (Moroccan bass lute) – something Kranzelbinder has been playing with for many years now – and flute add yet more texture to what is already a complex balance of sounds.
Recorded in the Cicaleto Studio in Tuscany, Heat is comprised of seven original compositions and kicks off with Unmight. A perfect opener, it reveals layer by layer what makes this band so great: catchy, deceptively simple melodies which gradually build to a frenzy of increasingly dense rhythms, in this case a Moroccan chaabi groove-inspired finale. On I wear my heart on the outside – the band's first drum-less track – new addition Wiesinger comes to the fore after a slow, almost fugue-like build up. The title track features the newly added log drums (slotted drums) played by Dolp and Pirker alongside bandleader Kranzelbinder's Guembri adding an exciting new dimension to the band's already strong arsenal of instruments. Stand out track Oh Captain, My Captain! is an atmospheric and playful piece characterised by the strikingly soft sound of the flute and muted trumpet and is a masterclass in how two double basses can be used simultaneously as melody and accompanying instrument. Other tracks include I am the bad Wolf, a rhythmically complex structured piece with overlapping wind lines; Lucidity, a 12 minute hallucinogenic sound scape and Wake Up and Be Gone which lies somewhere between Ethiopian tezeta and southern European melancholy.
Tickets are available for 2900 HUF on the spot, online at bmc.jegy.hu, and at InterTicket Jegypont partners across Hungary.
Table reservations are automatically added during ticket purchase.
Please note that if you purchase an odd number of seats, you might have to share the table with others, especially if the concert is sold out.
For the best dining experience please arrive around 7pm.
We hold reservations until 8pm.
For more information, please call +36 1 216 7894
℗ BMC