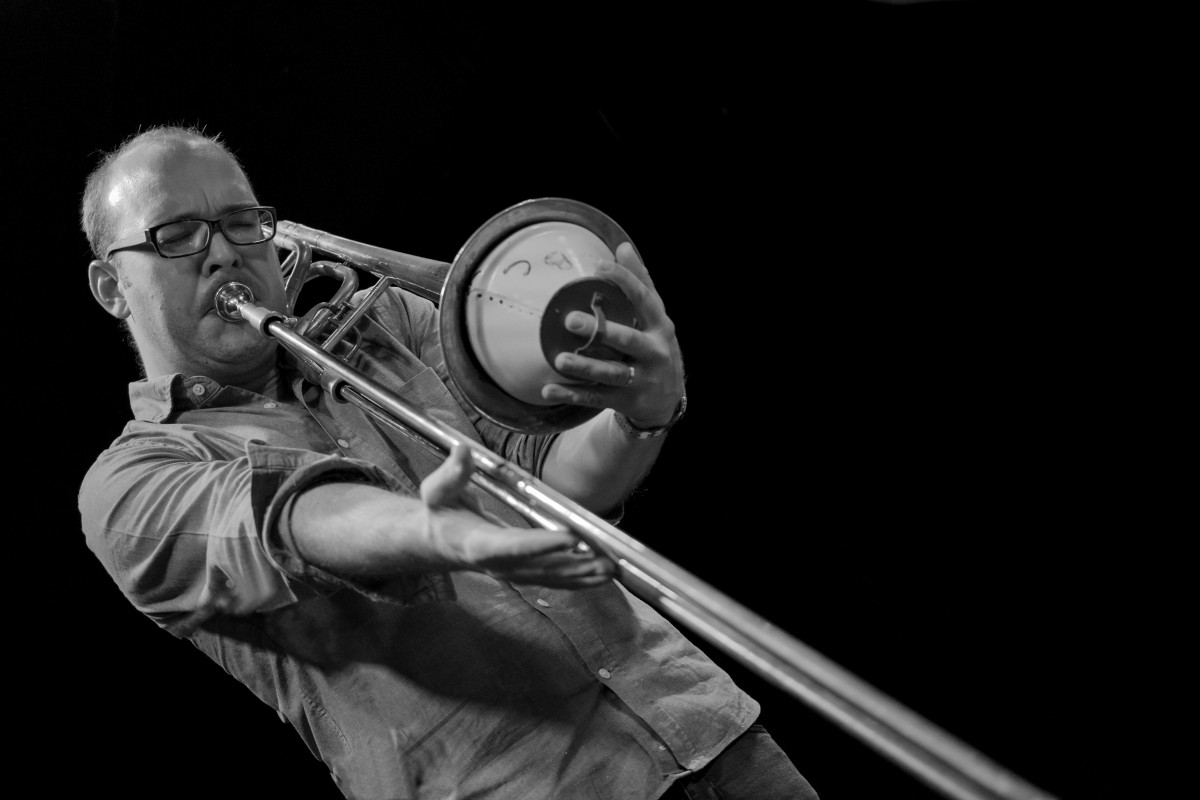 EurOpus | Samuel Blaser Trio (CH/FR/DK)
Featuring:
Samuel Blaser - trombone
Marc Ducret - guitar
Peter Bruun - drums
"Blaser is one of the most globally recognized performers on his instrument." Berliner Zeitung
At a time when there are more musicians in the world trying to be heard than ever before, rare gems like Samuel Blaser seem, paradoxically, to rise above it all. Since his 2007 debut as a leader, Blaser has grown at an almost incomprehensible rate, from straight-ahead hard bopper in his mid-twenties to innovative free player and ever-searching composer and bandleader in his early thirties, one whose improvisational strength has received high praise from media the world over. He has achieved a rare prominence as one of his generation's most wildly elegant, relentlessly forward-thinking and undeniably virtuous trombonists.
With a history of work in Switzerland, NY and Berlin, Blaser brings now his multi-national trio with avant improvising guitarist Marc Ducret and drummer Peter Bruun to the stage of Opus for a set of extended improvisations, all three players displaying a unique language of incisive and fascinating free jazz. The Samuel Blaser Trio has played together extensively in recent years, developing a kinetic language and an active sense of restrained interplay, with each capable of taking one of the other's musical ideas and pressing it into action. The shape-shifting trio can march, tumble, groove, simmer or flare up, depending on the needs of the moment. Since 2013 the trio has performed over 100 shows in Europe, North America, South America and Asia including the Willisau Jazz Festival, Switzerland; Jazzdor Festival, France; Atlantique Jazz Festival, France; Umea Jazz Festival, Sweden; Cheltenham Jazz Festival, UK; London Jazz Festival, UK; Jazz Jantar, Poland; Sarajevo Jazz Festival, Bosnia; What's Next, Netherlands; Shenzhen Jazz Festival, China and the Guangzhou Jazz Festival, China.
Tickets are available for 1800 HUF on the spot, online at bmc.jegy.hu,
and at InterTicket Jegypont partners across Hungary.
Table reservations are automatically added during ticket purchase. We hold reservations until 8pm.
For more information, please call +36 1 216 7894
℗ BMC