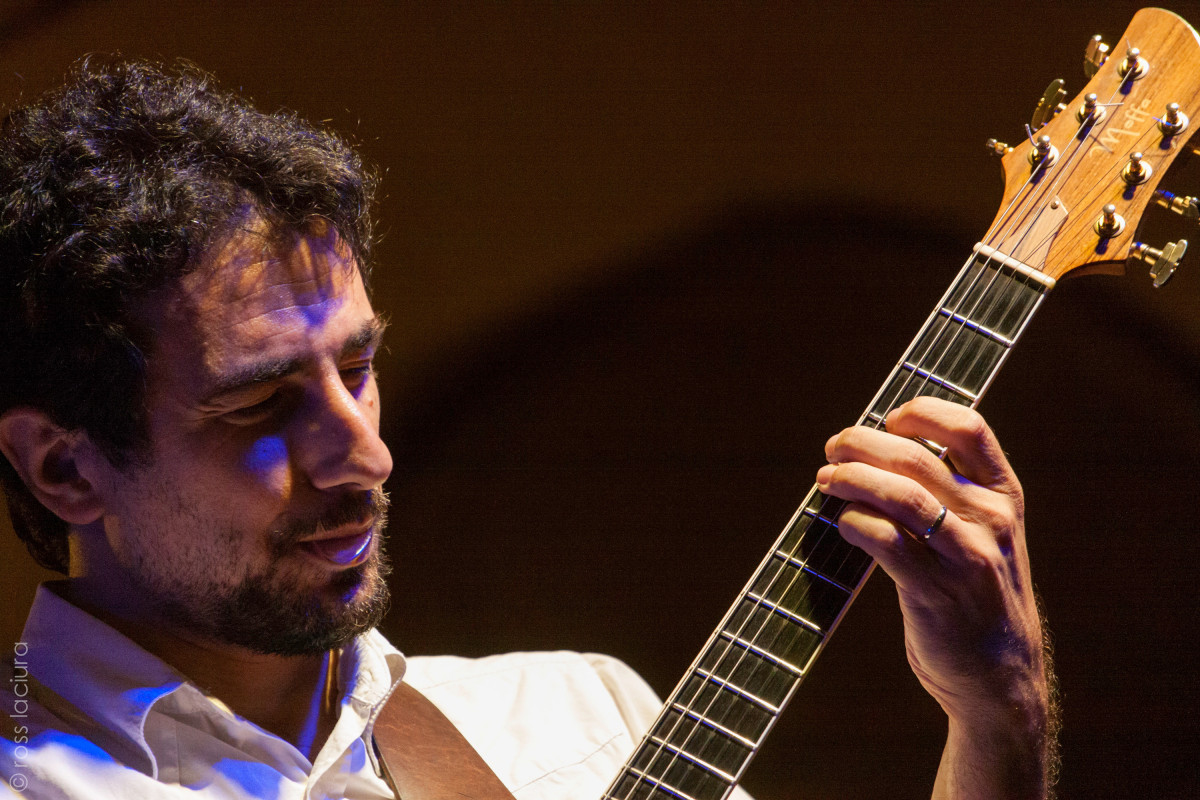 Francesco Guaiana - Kristóf Bacsó Reunion Quartet (IT/HU)
Featuring:
Francesco Guaiana - guitar
Kristóf Bacsó - saxophone
Péter Ajtai - double bass
Zsolt Sárvári Kovács - drums
Born in Palermo, Sicily, Francesco Guaiana approached both jazz and classical guitar studies and thanks to a scholarship he was able to attend The Berklee College of Music in Boston at the end of the 90's where he had the pleasure to study with Mick Goodrick, Jon Damian, Bret Wilmott, Dave Samuels, Bruce Bartlett, Ted Peace and perform with Gary Burton, Paul Jeffrey, Dayna Stephens, Bob Moses, Ferenc Nemeth among others. In 2001 he was hired as staff member at Berklee College in Boston, working for Bob Stoloff and Bill Pearce. He has performed in Italy, Austria, France, Slovakia, Czech Republic, Germany, The Netherlands, Spain, Switzerland, Poland, Latvia and USA. He has recorded a few records under his name and has taught jazz clinics in England, Spain, Portugal, Latvia, Poland, Italy. He is currently teaching Jazz guitar in A.Scontrino Music Conservatory, Trapani Italy.
The collaboration between Francesco Guaiana and Kristóf Bacsó goes back to the turn of the millennium, both of them being students at the Berklee College of Music in Boston at the time. They continued to collaborate through a successful Calabrian tour in 2007, while drummer Zsolt Sárvári Kovács, who started his career together with Bacsó at the Ferenc Liszt Academy of Music in Budapest, also met Francesco while spending some years of his life in Italy. They carried out numerous projects with prominent musicians of the vivid jazz scene of Rome. The idea to ​​melt the experience of the past few years in a new, common sound was formed from this triple acquaintance. Péter Ajtai, whom both Kristóf and Zsolt shared several groups and projects with, was asked by them to be a fourth companion for the realization of their idea.
The team is presenting themselves the first time for the public on to the stage of Opus. Their music combines elements of contemporary jazz and free music with intellectual sensitivity, so characteristic for each of the four musicians.
Jegyek 1800 forintos áron kaphatók a helyszínen,
az InterTicket országos JEGYPONT hálózatában, valamint a jegy.hu oldalon.
Kérjük Önöket, hogy az Opus Jazz Clubba
váltott jegy mellé ne felejtsenek el asztalt foglalni!
Asztalt jeggyel, internetes jegyváltás esetén utalványazonosítóval rendelkező vendégeinknek tudunk foglalni.
Az asztalfoglalásokat legkésőbb 21 óráig tudjuk fenntartani!
Közvetlenül koncertkezdés előtt történő jegyvásárlásnál vendégeink a meglévő asztalokat érkezési sorrendben foglalhatják el.
Telefon
+36 1 216 7894