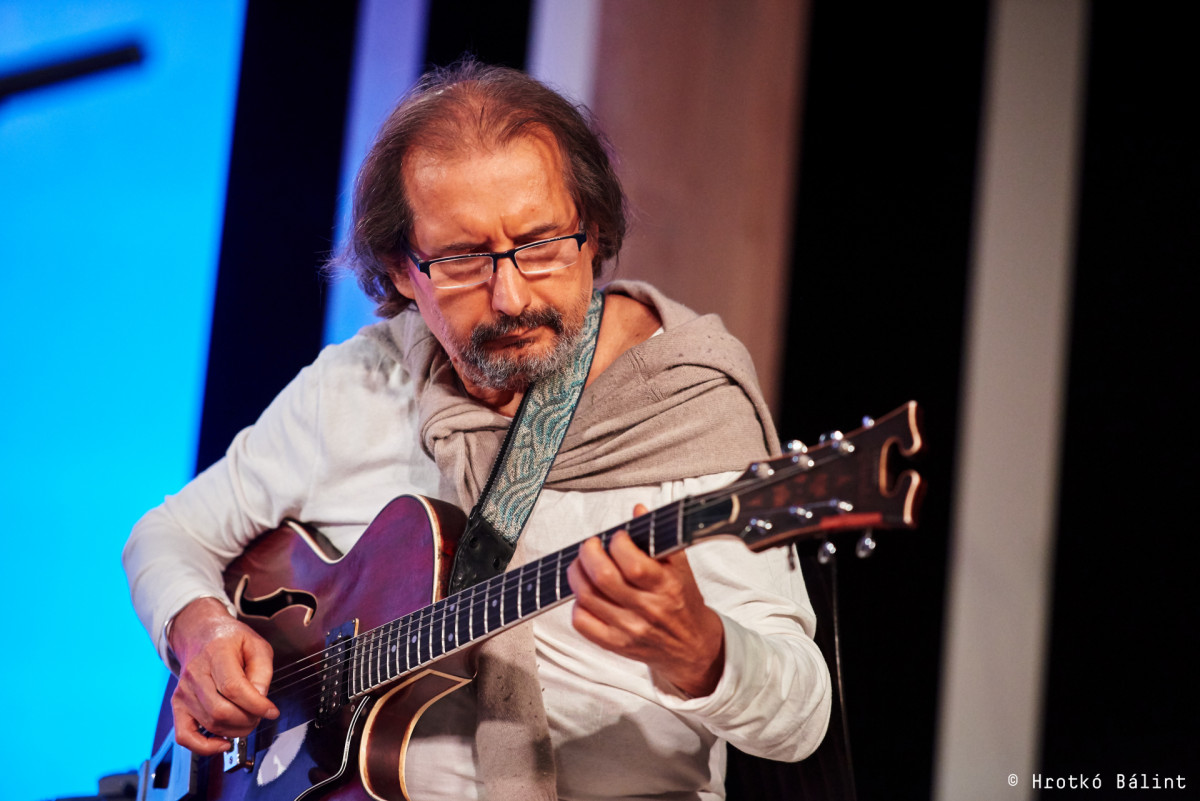 EurOpus | Gábor Gadó - Laurent Blondiau (H/B): Veil and Quintessence
LIVE STREAM
Opus Jazz Club
Featuring:
Gábor Gadó - guitar
Laurent Blondiau - trumpet
Live stream: https://www.youtube.com/watch?v=UvqiIoumQbk
It is no coincidence that both Gábor Gadó and Laurent Blondiau received the Bobby Jaspar prize of Académie du Jazz honouring the best Europan musician each year, but the kinship of the two artists runs a lot deeper than that. Blondiau is the founder of one of Belgium's most creative musical outlets, Mâäk's Spirit, while Gábor Gadó is one of the central figures of new Hungarian jazz. Their collaboration started back in 2004 in the international (or to be more precise: supranational) formation called Unit, and both of them have been fervently seeking new forms of musical expression ever since. Their paths crossed again last year, looking for connections between music and spirituality on their new duo album Veil and Quintessence, released in October on BMC Records.
From one piece to another, or within one and the same piece, the duo appears to move with great stylistic unity from a folk, modal idiom to the harmonization of a Protestant chorale and to the fluid voice-leading typical of writing for the string quartet, in a symbiosis of the horizontal and the vertical, of the contradictory enticements of the ostinato and modulating harmony. In contrast to the clear lines of Blondiau's trumpet stands Gadó's recognisable guitar style, dimming the apparent attack of his instrument to the sound of a chorale or a church organ. Because everything here is a prayer, a meditation, a vigil and contemplation in a sense the West has forgotten, a sense which its poets and thinkers have gone to seek in oriental mysticism, to throw off the veil covering the quintessence of existence and to reconcile shadow and light.
Veil and Quintessence on Spotify
Tickets are available for 1500 HUF on the spot,
online at jegy.hu, and at InterTicket Jegypont partners across Hungary.
Please don't forget to reserve a table after purchasing your ticket, as seating at Opus Jazz Club can only be guaranteed in this case.
We hold reservations until 8pm. Remaining tables are assigned on a first-come, first-served basis.
For reservations, please call +36 1 216 7894 and have your ticket or voucher at hand.
℗ BMC