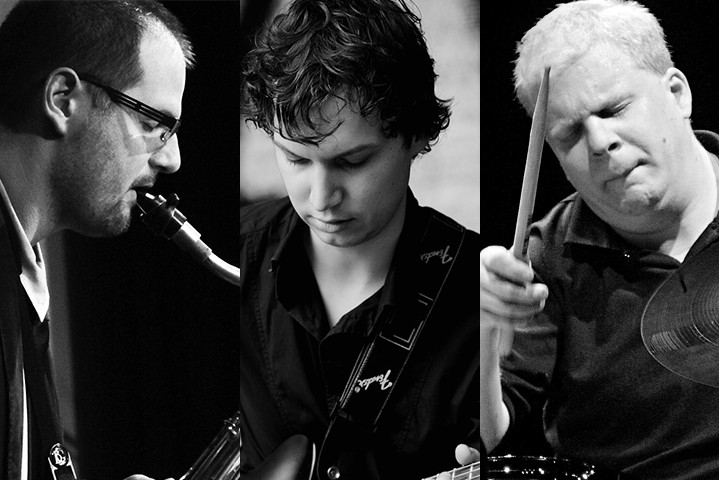 Balance, guest: Gábor Gadó
Featuring:
János Ávéd - saxophone
Márton Fenyvesi - guitar, electronics
Ákos Benkó - drums
Gábor Gadó - guitar
"Like the music of Béla Bartók and Zoltán Kodály, later-day patron saints of Hungarian music, the songs written by János Ávéd and by Balance are all based on the mixture of folk wisdom and sophisticated poetic conceits and they celebrate the natural world and its regenerative powers in the face of both natural and supernatural phenomena. Each begins arrestingly with either saxophone or flute and with the addition of the drums, acquires emotional weight as it goes along. The seriousness with which Balance approach these works is evident, and the forces are ideal: single voices amplified as a potent trio as required provide atmospheric rarity and a powerful sonorous imprint to all of this music. This is clearly a disc not to be missed." Raul da Gama, JazzdaGama, May 2017
The trio was founded in 2010 by János Ávéd, a prominent representative of the youngest generation of Hungarian saxophonists. The two other members are also outstanding figures of the young Hungarian jazz generation. Guitarist Márton Fenyvesi, awarded with the Junior Prima prize, is leader and/or member of several Hungarian jazz outfits. Winner of the Vilmos Jávori Drummer Contest, Ákos Benkó is a solid pillar of different groups.
Balance is a tight collaboration of these three musicians, depicting the present time with a line-up of saxophone-guitar-drums, balancing the deliberate absence of a bass instrument by free use of formal and musicals means. Their sometimes quite surprising use of different musical themes drawn from mainstream roots through classical and contemporary music up to even post-rock is sort of a trademark of their music.
Comprised of the trio's two previous Opus concerts, their debut album Balance was released in 2016 on BMC Records.
Tickets are available for 1500 HUF on the spot,
online at jegy.hu, and at InterTicket Jegypont partners across Hungary.
Please don't forget to reserve a table after purchasing your ticket, as seating at Opus Jazz Club can only be guaranteed in this case.
We hold reservations until 8pm. Remaining tables are assigned on a first-come, first-served basis.
For reservations, please call +36 1 216 7894 and have your ticket or voucher at hand.
℗ BMC