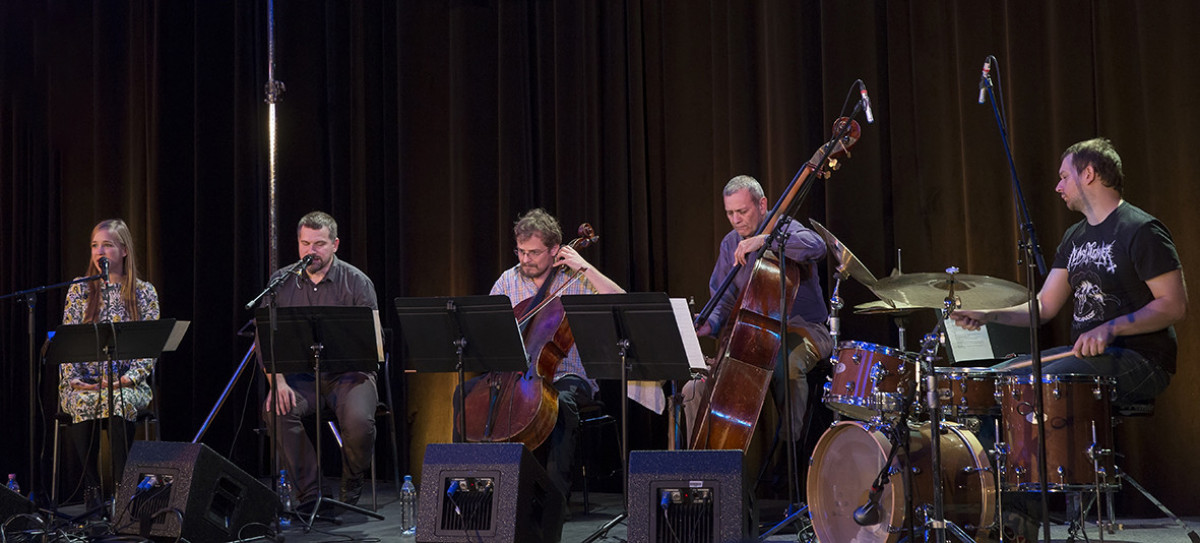 Harcsa / Keszég / Márkos / Benkő / Pándi: Kassák (HU)
Gallery tickets still available on the spot
Opus Jazz Club
Featuring:
Veronika Harcsa - voice
László Keszég - prose
Albert Márkos - cello
Róbert Benkő - double bass
Balázs Pándi - drums
The avant-garde music program based on the poems of Lajos Kassák will be performed again in the Opus Jazz Club. Four musicians and one actor undertake to present the selected poems of Lajos Kassák at an unusual concert. The music of the artists faithfully follows the attitude of the works of the poet known for his free verses. Music compositions include melodic, song-like structured pieces, free improvisations following poems, and conceptual, avant-garde songs. The special feature of the project is that in addition to the actor László Keszég, the musicians also perform a poem, thus focusing on the personality and the experience of the poems.
Veronika Harcsa doesn't cover poems for the first time, her 2011 album Lámpafény also included a Kassák adaptation, and she also selected most of the poems for this project. Albert Márkos is also known as a theatrical and film composer, many of the songs of the evening are named after him. Balázs Pándi and Róbert Benkő are the defining figures of Hungarian free jazz. The composition of the band is eclectic, the music they play matches Kassák's controversial personality and the diversity of the poems, the emotionality and hardness inherent in them.
Tickets are available for 2000 HUF on the spot, online at bmc.jegy.hu,
and at InterTicket Jegypont partners across Hungary.
Table reservations are automatically added during ticket purchase.
For the best dining experience please arrive around 7pm.
We hold reservations until 8pm.
For more information, please call +36 1 216 7894
℗ BMC