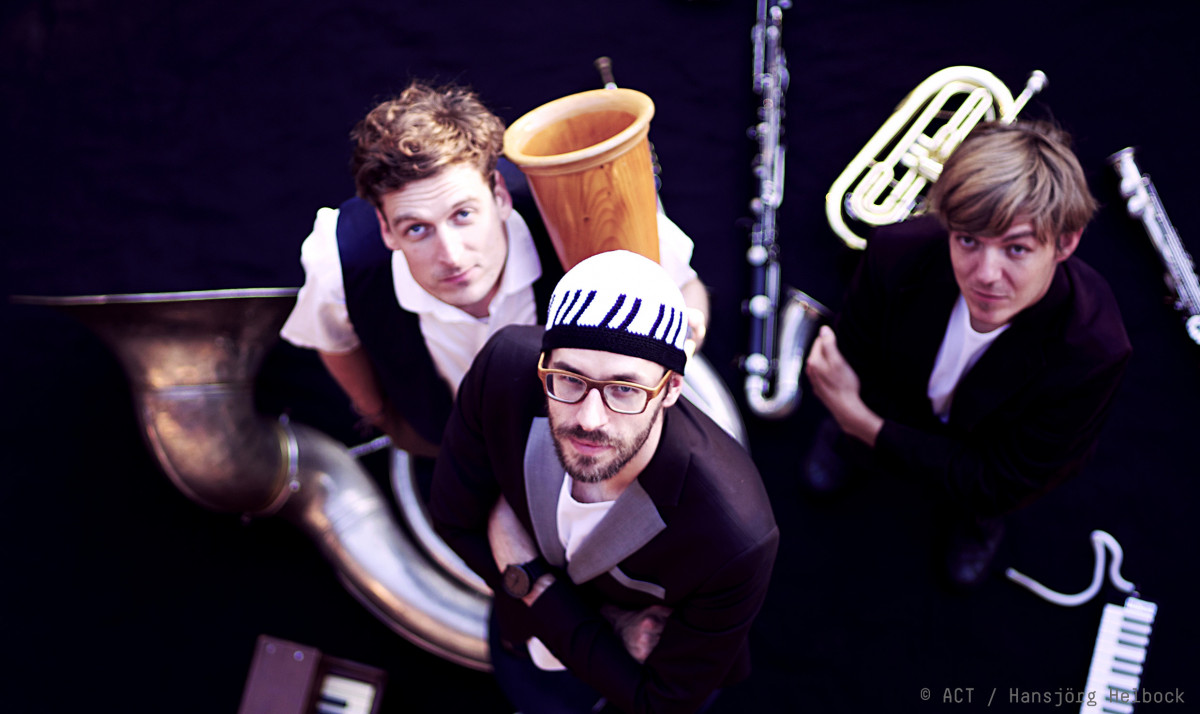 j(A)zz! | David Helbock's Random/Control (AT) "Tour d'Horizon - From Brubeck to Zawinul"
Featuring:
David Helbock - piano, inside piano, electronics, toypiano, melodika, percussion
Johannes Bär - trumpet, piccolotrumpet, flugelhorn, sousaphone, tuba, alphorn, beatbox, didgeridoo, electronics, percussion
Andreas Broger - soprano and tenor saxophone, clarinet, bass clarinet, flute, recorder, flugelhorn, percussion
"David Helbock is a musician to watch. [...] An impeccable pianist with a clear, crisp touch." Jazzwise (GB)
"Accomplished, melodic playing" The London Times (GB)
"Tour d'Horizon surprises at every turn, a measured feast for the senses." Downbeat (US)
"Simply indescribable." Jazz Thing (DE)
"Exciting and full of surprises and delights." Les Inrocks (FR)
More than 20 instruments on stage, but just three musicians. David Helbock, Outstanding Artist Award Winner in Austria, mainly plays on instruments with keys. Johannes Bär does all the brass, from trumpet to bassflugelhorn and tuba and Andreas Broger plays wind-instruments like saxophones, clarinets and flutes.
For their new program, Tour d'Horizon - From Brubeck to Zawinul released as a CD on the renowned ACT Music label, David Helbock got inspired by his favorite jazzpianoplayers and arranged their most famous tunes for this special line-up. So new, exciting versions of Watermelon Man by Herbie Hancock or Bolivia by Cedar Walton emerged – but also soft, atmospheric pieces like Keith Jarrett's My Song shine like new.
Over the years Random/Control has developed a really distinct bandsound. Always different raw material – Austrian folkmusic, original compositions (in 2009 David Helbock had a big compositional project, where he wrote one piece every day for a whole year) and now these 'Pianoplayer's Hits', the band always sounds like Random/Control - a ride on the rollercoaster for the ear and the eye.
Or like Roland Spiegel from the Bavarian radio wrote already years ago: "...I think this musician with his 'pianocap' is one of the most exciting players of the young European jazz scene. The listener experiences something new when David Helbock plays. And it's never 'top-heavy' music – it's music that thrills the body and the mind..."
Tickets are available for 2200 HUF on the spot,
online at jegy.hu, and at InterTicket Jegypont partners across Hungary.
Please don't forget to reserve a table after purchasing your ticket, as seating at Opus Jazz Club can only be guaranteed in this case.
We hold reservations until 8pm. Remaining tables are assigned on a first-come, first-served basis.
For reservations, please call +36 1 216 7894 and have your ticket or voucher at hand.
℗ BMC