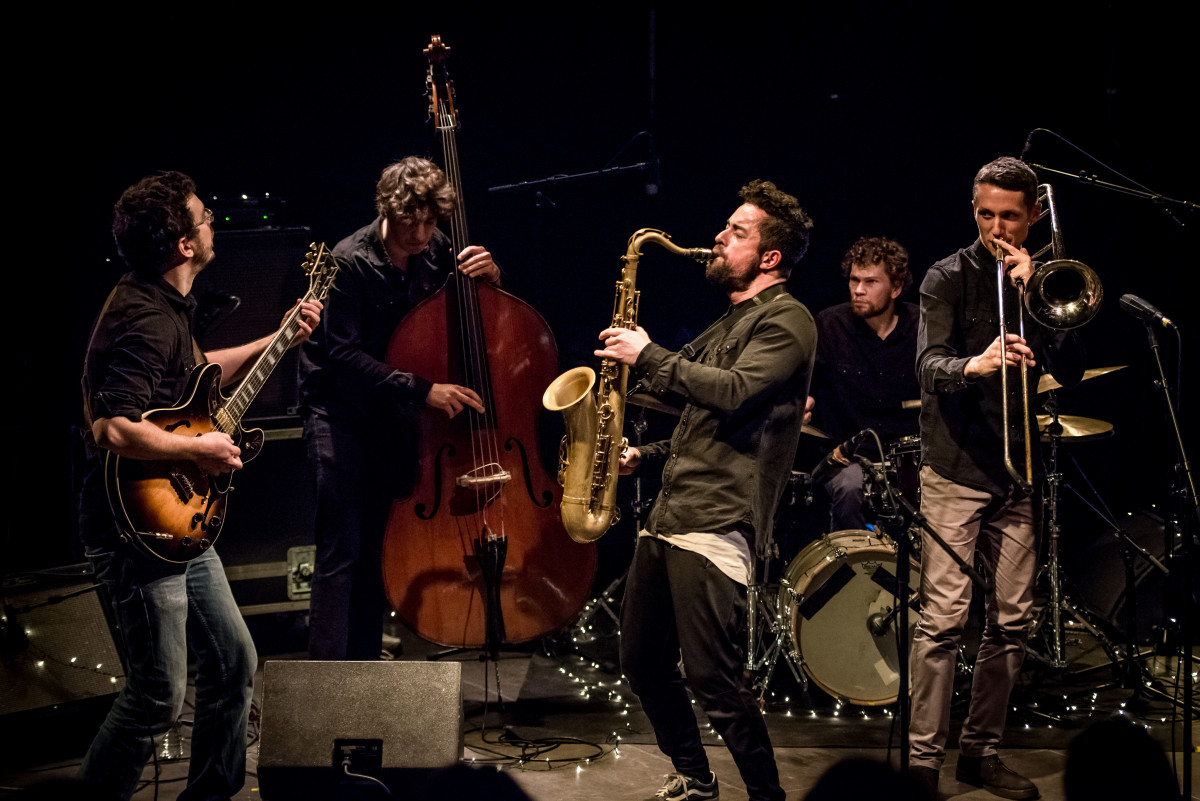 Featuring:
Paul Jarret - guitar
Maxence Ravelomanantsoa - tenor saxophone
Léo Pellet - trombone
Alexandre Perrot - double bass
Ariel Tessier - drums
Beyond any doubt, the French quintet Pj5, founded in 2010 by guitarist composer Paul Jarret, is influenced by English and Scandinavian rock, pop and electro bands, as well as the New York jazz scene. The band stays strongly attached to the wide jazz tradition and at the same time offers a modern sound where the melody thread is always running throughout the music. On stage, Pj5 sends out a huge sound, with an omnipresent melodic lyricism, and explosive energy.
Trees, the title of group's second album from last year, composed by Jarret, symbolizes patience and wisdom, incarnation of mystery, beauty and magic of Nature, source of food, material and oxygen, indispensable to the Man who too often forgets it. Everything our contemporary civilization may need : return to some slowness, respect for our fertile but fragile environment, vision in the long term... The album therefore is an ode to the Nature and Respect. Paul Jarret's compositions are performed by a mature group, having forged a bold and cohesive sound throughout the years common work, tours and concerts.
The concert is being performed as part of the Jazz Migration series established by AJC to support the professional development of new jazz groups.
Tickets are available for 1300 HUF on the spot,
online at jegy.hu, and at InterTicket Jegypont partners across Hungary.
Please don't forget to reserve a table after purchasing your ticket, as seating at Opus Jazz Club can only be guaranteed in this case.
We hold reservations until 9pm. Remaining tables are assigned on a first-come, first-served basis.
For reservations, please call +36 1 216 7894 and have your ticket or voucher at hand.