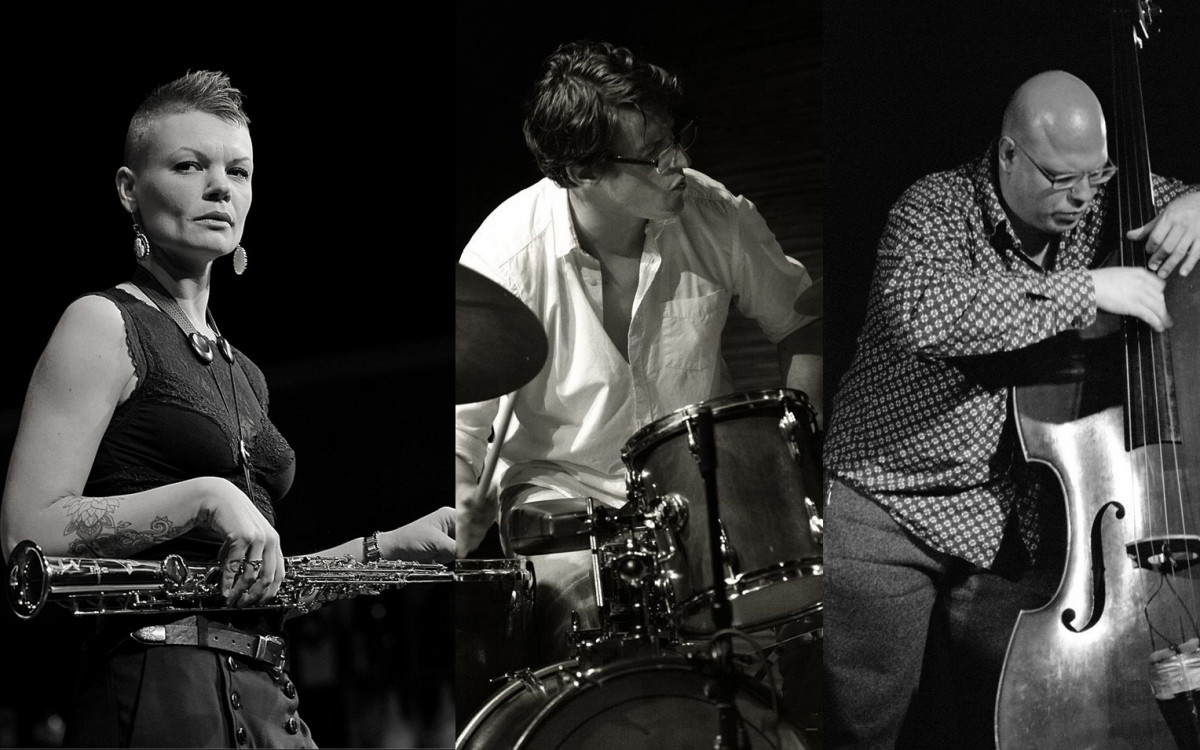 Jovićević - Miklós - Wójciński Trio (RS/HU/PL)
Featuring:
Jasna Jovićević - saxophone, bass clarinet
Ksawery Wójciński - double bass
Szilveszter Miklós - drums
The Jovićević - Miklós - Wójciński Trio brings musical freshness with its originality, open forms and freedom. All three musicians are known for improvisation, composition and contemporary approach in chamber jazz. They play original music, mostly spontaneously composed, collaboratively developed through improvisation and soundscape. Their new album, recorded in Serbia, will be released soon, they promote its material on their summer and fall tours in Central Europe.
Jasna Jovićević, saxophone & bass clarinet player and composer from Serbia, studied jazz saxophone and music composition in Budapest, Toronto and Belgrade. She played with famous artists such as Hamid Drake, Mike Stern, Bojan Zulfikarpašić, Al Di Meola, performed at jazz festivals across Europe, US and Canada, released 4 solo albums, and is featured on ten further albums. She is also the leader of New Spark Jazz Orchestra - Women of Balkans in Jazz.
The drummer from Budapest, Szilveszter Miklós, hails from Vojvodina. After he studied violin, he continued to learn and play jazz music on drums. He graduated from Jazz Department of the Liszt Ferenc Academy of Music and he performs with famous avant-garde creative artists such as István Grencsó, Benkő Róbert, Pozsár Máté, Ajtai Péter, Mezei Szilárd, Szelevényi Ákos and Mihály Dresch. On the international scene, we could see him perform with Lewis Jordan, Johannes Bauer, John Dikeman or Peter Brötzmann.
Double-bass player from Poland, Ksawery Wójciński, is a well-known active musician on the international contemporary jazz scene. He graduated from the music academy in Bydgoszcz, and he performed at important international festivals across Europe: Akbank Jazz Festival (Istanbul), Periferias Festival (Spain), JazzFest Berlin and Nordischer Klang (Germany), inJazz (Netherlands). He recorder more than twenty albums of original music as a soloist and backing musician, among others with Hamid Drake, Uri Caine, Charles Gayle, Nicole Mitchell, Satoko Fujii, Alan Bern, Michael Zerang, Mikołaj Trzaska and many others.
Tickets are available for 1500 HUF on the spot, online at bmc.jegy.hu,
and at InterTicket Jegypont partners across Hungary.
Table reservations are automatically added during ticket purchase. We hold reservations until 8pm.
For more information, please call +36 1 216 7894
℗ BMC