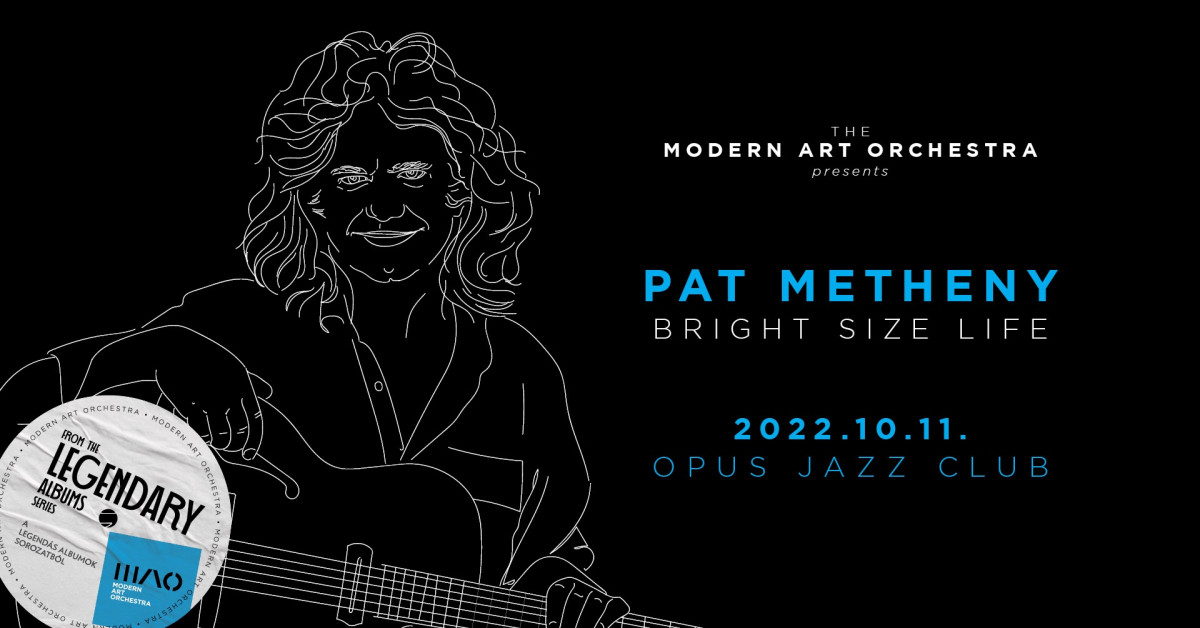 MAO Legendary Albums | Pat Metheny: Bright Size Life (HU)
Featuring:
Áron Komjáti - guitar
József Barcza Horváth - bassguitar
László Csízi - drums
Modern Art Orchestra's Legendary Albums series presents the most important and unique albums of jazz literature, performed by MAO. By learning and playing these compositions and arrangements, the musicians are paying tribute to the jazz legends and are undergoing an intense process of musical improvement. The band absorbs the material of the original recordings, sticking to the arrangements, forms and compositional features. As improvisation is the blood of jazz, solos are invented by the players at the moment. Due to the respect shown towards the original conceptions of the legendary composers and the level of craftsmanship known from Modern Art Orchestra, the Legendary Albums series both brings you the essence of jazz tradition and guarantees a fresh musical experience.
Pat Metheny: Bright Size Life
Pat Metheny is undoubtedly one of the greatest jazz guitarists. He has played with all the legendary jazz icons while becoming one himself. His debut album Bright Size Life is presented by Modern Art Orchestra musicians in this special concert.
The album was released in 1976 at Manfred Eicher's ECM label. Besides its extremely high quality standards, this record company is also famous for its apolitical view regarding styles of music. Originally recorded with Jaco Pastorius, Bob Moses and group leader Metheny, Bright Size Life is a suitable musical challenge for the MAO chamber group.
Despite the scarcity of this setup, there is nothing but richness in the sound of the original recording. The guitar-bassguitar-drums trio is by far not the easiest composition of instruments. However, its challenges make it interesting and provide extra space for the musicians. It is harder to distinguish solstice and accompaniment roles in this context which allows for an organic, ever-evolving musical texture. Bright Size Life is the first, but straight out classic Metheny album which codifies the essence of a beautiful, curious and lyrical musical soul. His sound cannot be mistaken for anyone else's, neither can be the style of composition that runs through the album.
2-person season tickets for 4 concerts are available for 20.000 HUF on the spot and online at bmc.jegy.hu/seasonticket.
Tickets are available for 2900 HUF on the spot, online at bmc.jegy.hu, and at InterTicket Jegypont partners across Hungary.
Table reservations are automatically added during ticket purchase.
For the best dining experience please arrive around 7pm.
We hold reservations until 8pm.
For more information, please call +36 1 216 7894
℗ BMC