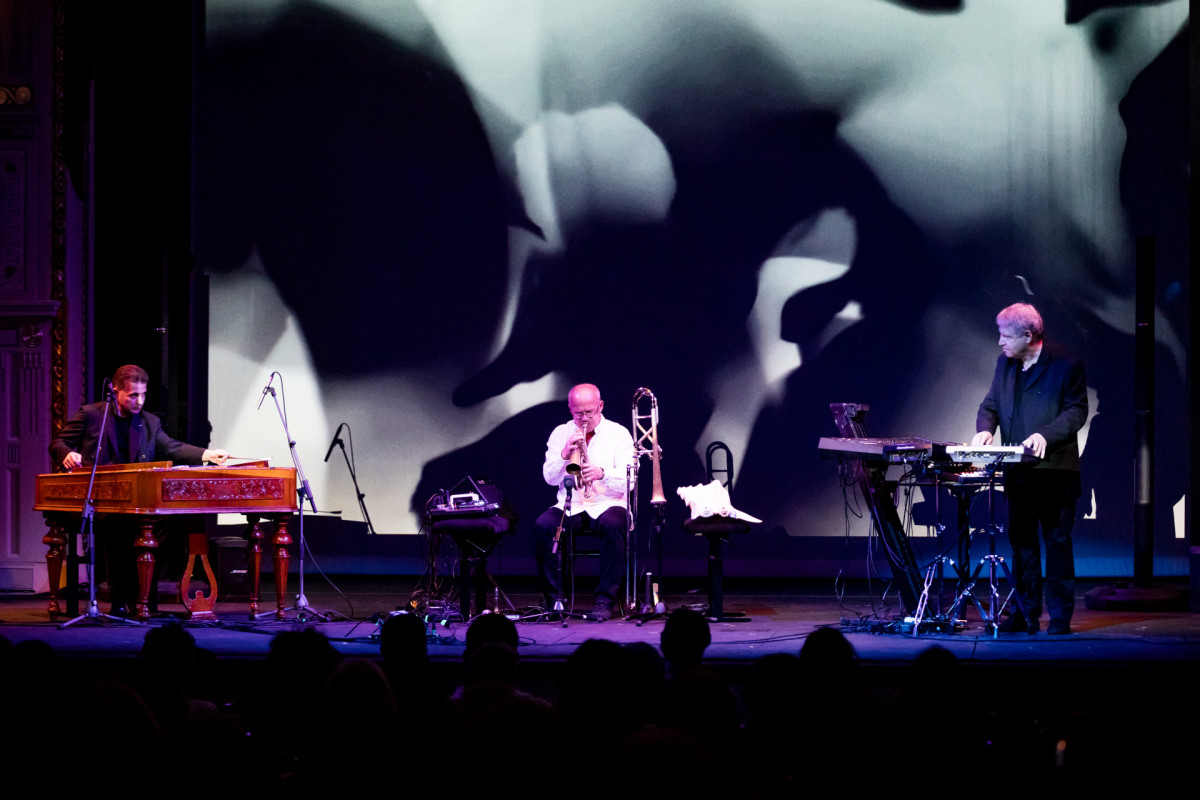 Moment's Notice Trio: Memories of the Moments
Featuring:
László Gőz – trombone, bass trumpet, ocarina, seashells
György Kurtág Jr. – keyboards, electronics
Miklós Lukács – cimbalom
Moment's Notice is a rare encounter between three leading experimentalists from different corners of new music – jazz trombonist and stalwart of the Hungarian neo-avant-garde László Gőz, acclaimed electronic sound artist György Kurtág Jr., and cimbalom extraordinaire Miklós Lukács. Inspired by the Hungarian electronic classical music scene of the decades of state socialism (1960s-70s), the trio explores the spirit of the avant-garde and its relevance to today's new music scene. The electronic sounds generated by György Kurtág Jr. give the framework for the music – or if we will, the basis – as if, sensitively reflecting his fellow musicians, he were constructing the form which two instruments dissimilar in sound and character, the cimbalom and the trombone, then proceed to fill with material. The difference in character is also due to the personalities of the performers. Miklós Lukács's playing is imbued with frantic energy, which he is able to keep in check with dazzling mastery. László Gőz's trombone playing, however, exudes a captivating calm, and even in the wildest of moments maintains its dignity. The personality of György Kurtág Jr. is partially concealed by the electronic sounds, and in all likelihood this is why Moment's Notice Trio works perfectly: the three musicians complement one another not just musically, but also as people.
The Trio's live album, Creation was recorded at the Liszt Academy of Music and released on BMC Records in 2019.
Tickets are available for 1800 HUF on the spot, online at bmc.jegy.hu,
and at InterTicket Jegypont partners across Hungary.
Table reservations are automatically added during ticket purchase.
For the best dining experience please arrive around 7pm.
We hold reservations until 8pm.
For more information, please call +36 1 216 7894
℗ BMC