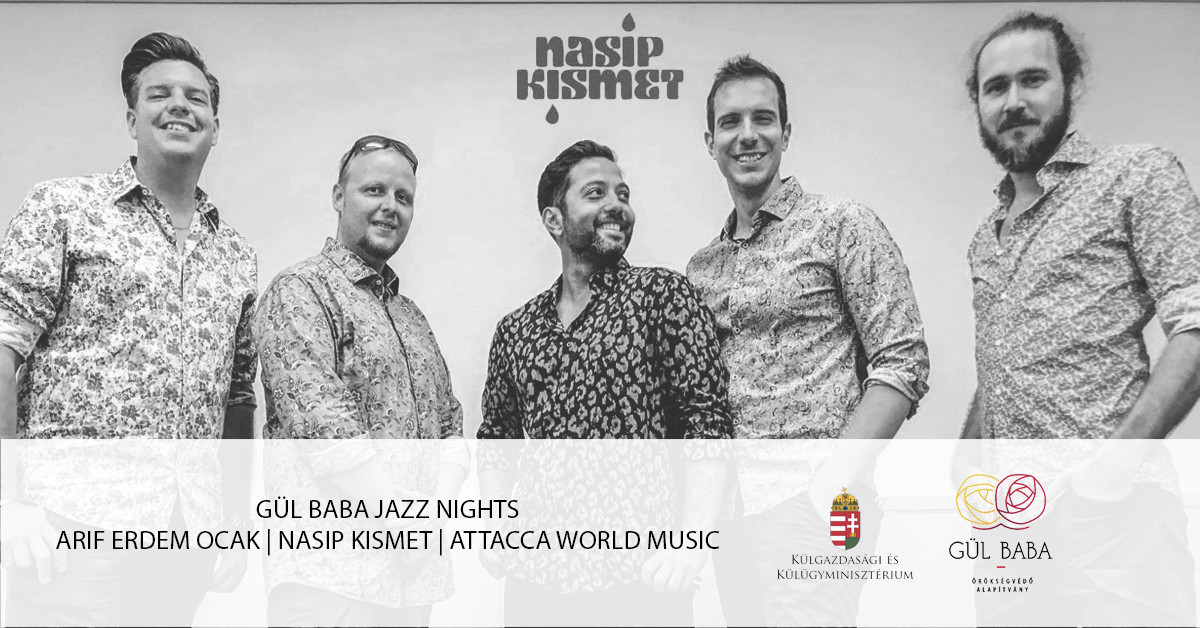 Gül Baba Jazz Nights | Arif Erdem Ocak | Nasip Kismet | Attacca World Music
Featuring:
Arif Erdem Ocak – percussion guitar
Márton Eged – bass
Dániel Mester – saxophone
Dávid Szegő – drums
Tomi Smuk - darbuka
Derya Ocak - vocals

---

Bori Fekete – vocals
Móni Horváth – saxophone, kaval, flute, vocals
Erzsébet Mészáros – violin
Csaba Hetessy – piano
Ábel Dénes – double bass
Zoltán Bordás – tupan, cajon, darbouka, frame drum
Arif Erdem Ocak is a Turkish percussion guitarist / songwriter, who connects centuries-old Turkish melodies with modern percussion-style guitar playing. With his storytelling and melodic guitar tunes that lean into folk, he intimately unfolds personal narratives and universal topics such as (after)life, spirituality, virtue and our common humanity. His songs, melodies, and lyrics cover a gamut of emotions; sometimes a mellow contemplation, sometimes overwhelmingly raw or sometimes melodramatic. Arif creates heartfelt hypnotic songs that get under your skin and takes the audience a journey of reflection, silence and mind fullness.

Nasip Kismet is the first Turkish Psychedelic band of its kind, New-Anatolian. With its dense diverse background of music styles, history and experience from each of its members, the richness & depth of Nasip Kismets musical expression sings for itself.
Sounds that stretch across the ages, telling a fusion of untold stories of the heart & soul. With Ancient Turkish roots strung to guitar, beats and bass demanding calls to attention towards the new worlds with saxophone, keyboards threading together the language we always once knew. We hear the grooves of time connected sending out the undeniable intoxicating vibrations of psychedelic transcendence.

Attacca World Music members all come from different musical backgrounds. As a result, our music grows not only from the style, phraseology and the formal language of classical music and contemporary jazz, but also, very emphatically, draws inspiration from authentic Hungarian folk music. We believe these influences make our sound more vivid, and function as cohesive force in our band. Our inspiration and guide is partly the folk music of the Carpathian Basin, particularly the pure source of Hungarian peasant music, which was extensively researched by Béla Bartók and Zoltán Kodály, and partly the 20th century works of these two composers. Choreographed dance also appears in our music, accompanying some of our tracks. It represents different regional dances which have been part of our folk culture and traditions for centuries.
Tickets are available for 2000 HUF on the spot, online at bmc.jegy.hu,
and at InterTicket Jegypont partners across Hungary.
Table reservations are automatically added during ticket purchase.
For the best dining experience please arrive around 7pm.
We hold reservations until 8pm.
For more information, please call +36 1 216 7894
℗ BMC