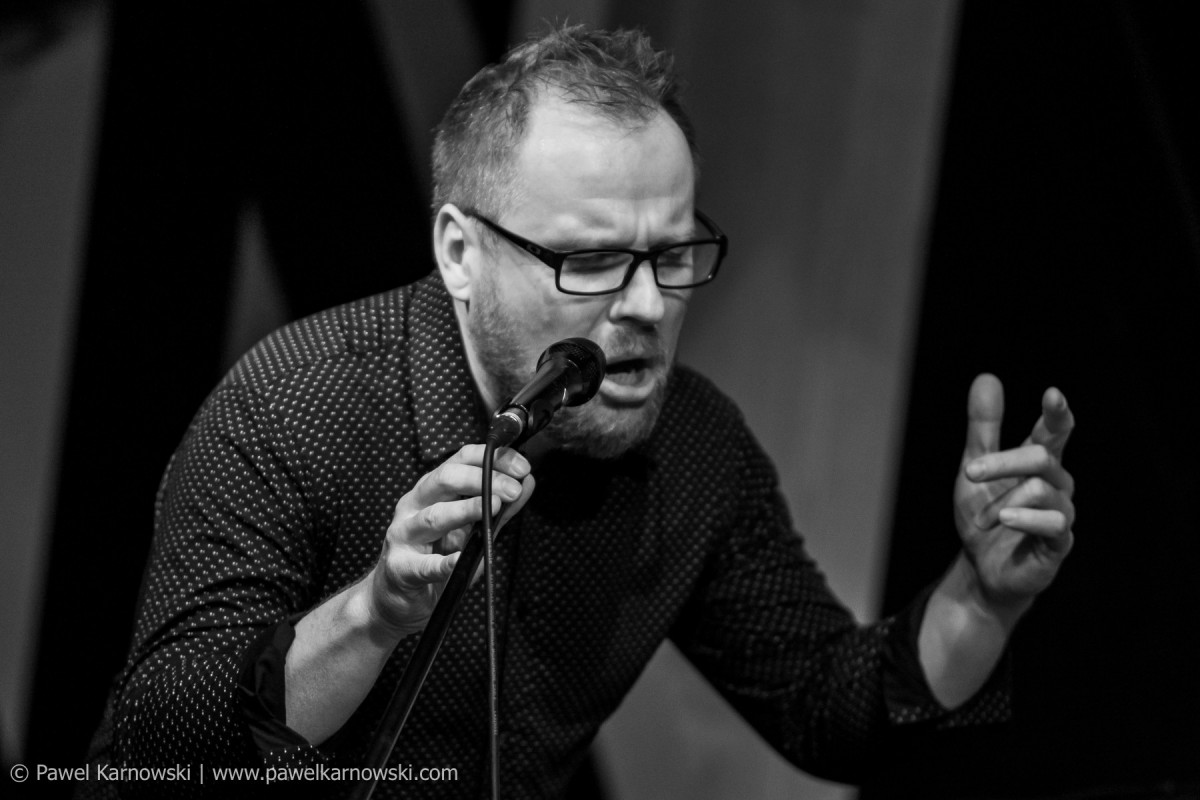 CANCELLED | Polska Jazz | Karnas Formula (PL/HU)
Featuring:
Grzegorz Karnas - vocals
Jakub Mizeracki - guitar
Alan Wykpisz - double bass, bass guitar
András Dés - percussion
Dear Guests,
With the aim of ensuring efficient protection against spreading COVID-19, in accordance with measures of the Hungarian Government, Budapest Music Center is cancelling all of its events until April 30, 2020 as a force majeure measure.
Tickets purchased online will be automatically refunded by Interticket. To refund tickets purchased in person, please contact us via info@bmc.hu
Budapest Music Center
---
Grzegorz Karnas is a Polish jazz singer. A festival organizer. A lover of languages ​​and cultures. A globetrotter.
It would be difficult to decide which of these statements fits Karnas the best. Among other things, it's due to this versatility that his individual voice and special performing style are unmistakable. He is connected through several links to BMC: he released two albums for BMC Records, appeared seven times on the Opus stage, representatives of BMC were several times members of the jury of the Voicingers Festival led by him, and several winners or outstanding contributors of the same festival were performing in Opus (Jihye Lee, Martyna Kvolek, Nastya Volokitina, Ganna Gryniva, etc.). With percussionist András Dés, one of the most multifaceted and experimenting musicians in Hungarian jazz, he played for the first time in the summer of 2015, and it became immediately obvious that their musicality, openness to the world and their dedication to free self-expression provide a fertile ground for a joint music. The same applies to the two outstanding young Polish artists, guitarist Jakub Mizeracki and bassist Alan Wykpisz.
Their repertoire based mainly on Karnas' compositions, but due to the strong personalities of the four musicians, each time they enter the stage has lots of its surprises in store for their audience. In their music, they like to venture to unfamiliar, undiscovered areas: Karnas speaks in languages ​​that no one has ever spoken before, Dés plays percussion on objects which had quite different functions so far, Mizeracki's guitar playing is phenomenal, and Wykpisz' bass provides a whimsical and creative base for the board game of the four of them.
facebook.com/Grzegorz-Karnas
pl-pl.facebook.com/jakub.mizeracki
facebook.com/adam.wykpi
facebook.com/desandras
Dear Guests,
With the aim of ensuring efficient protection against spreading COVID-19, in accordance with measures of the Hungarian Government, Budapest Music Center is cancelling all of its events until April 30, 2020 as a force majeure measure.
Tickets purchased online will be automatically refunded by Interticket. To refund tickets purchased in person, please contact us via info@bmc.hu
Budapest Music Center
℗ BMC