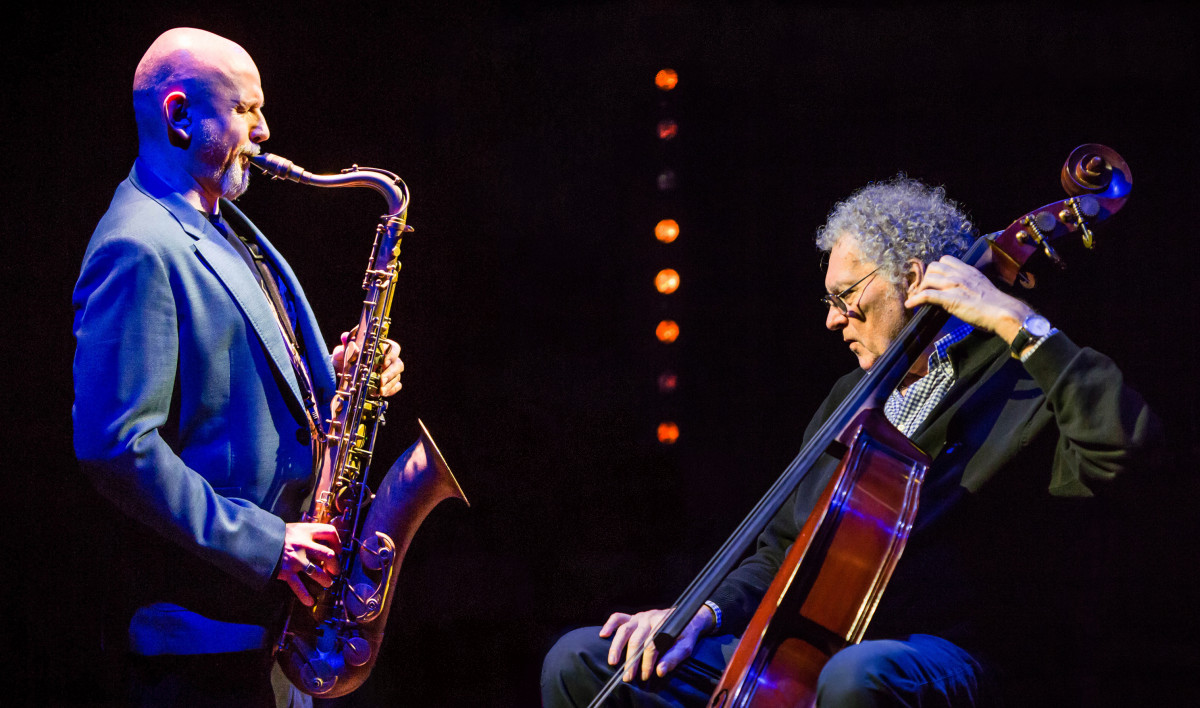 Polska Jazz│5. Polish Jazz Festival│Adam Pieronczyk – Miroslav Vitous (PL/USA)
Featuring:
Adam Pieronczyk - tenor and soprano saxophones
Miroslav Vitous - double bass
Leading Polish jazz musician, Adam Pierończyk, known for unique ideas and extraordinary creativity has invited one of the greatest and the most important bass players in the history of jazz music, Miroslav Vitous, to form an exceptional duo. This legendary Czech bassist played with Chick Corea, Miles Davis, Art Farmer, Stan Getz, Charlie Mariano, Jack De Johnette, John McLaughlin, Herbie Mann, Kenny Kirkland, Roy Haynes; formed the group Weather Report along with Wayne Shorter and Joe Zawinul; and various projects as a leader.
Adam Pierończyk, often called as 'one of the greatest innovators in Polish jazz', performs in all parts of the world and has won numerous awards. In 2015 he was named, for the 11th consecutive year, as Jazz Forum magazine's Best Soprano Saxophonist. He has been nominated 18 times for Poland's Fryderyk-award (the Polish Grammy) in altogether 14 categories, winning the 2 most important statuettes, Jazz Musician of The Year and Jazz Album of The Year. He served as Artistic Director for the Jazz aux Oudayas festival in Rabat, Morocco in 2004-2005, and as Artistic Director of the Sopot Jazz Festival in Poland from 2011 to 2015. He also composes music for theater productions. Pierończyk has worked with musicians such as Archie Shepp, Sam Rivers, Miroslav Vitous, Gary Thomas, Greg Osby, Bobby McFerrin, Tomasz Stanko, Ted Curson, Anthony Cox, Joey Calderazzo, or Leszek Mozdzer.
The duo's unusual setting, the original compositions and virtuosity of both artists make every concert an extraordinary musical encounter. They present a programme from the album Wings nominated as Best Jazz Album 2016 to the Fryderyk award and their second, newest one, Ad-lib Orbits. "The beauty of these individual instrumental voices is stunning. The melding of them is transformational. They sound like human voices of the spectral kind, full of mysterious passions, engaging in spirited conversation." wrote Dan McClenaghan (All About Jazz) about the latter.
adampieronczyk.com
miroslavvitous.com
facebook.com/AdamPieronczyk
Tickets are available for 2200 HUF on the spot,
online at jegy.hu, and at InterTicket Jegypont partners across Hungary.
Please don't forget to reserve a table after purchasing your ticket, as seating at Opus Jazz Club can only be guaranteed in this case.
We hold reservations until 9pm. Remaining tables are assigned on a first-come, first-served basis.
For reservations, please call +36 1 216 7894 and have your ticket or voucher at hand.