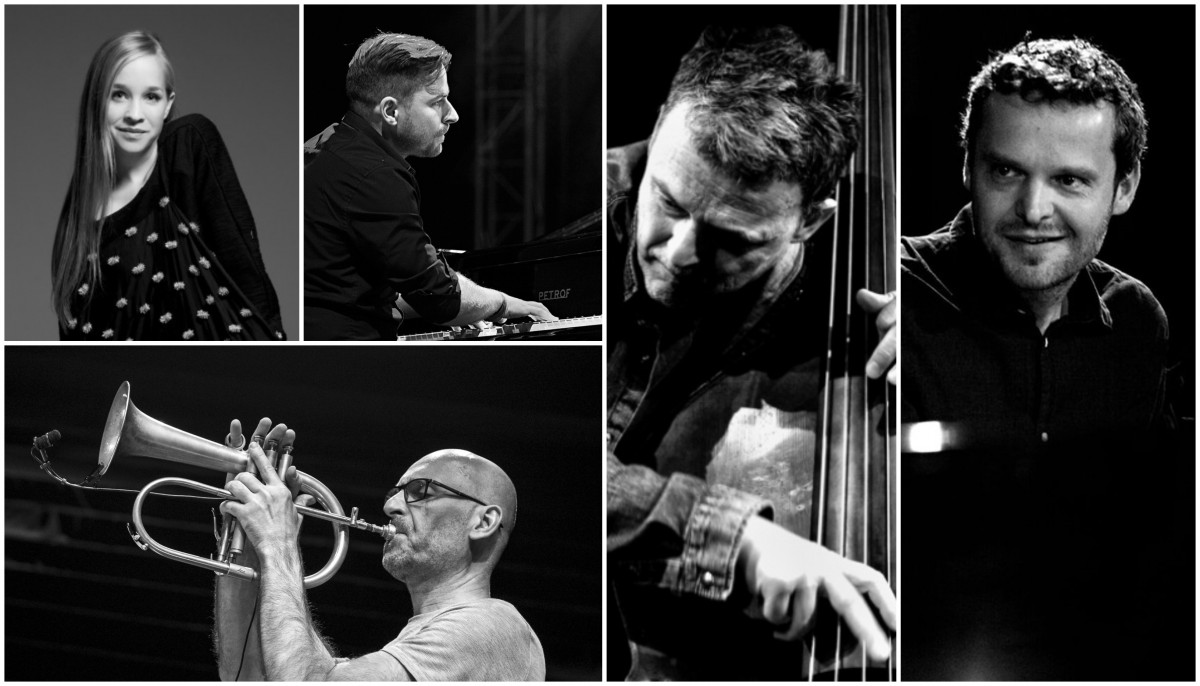 Robert Balzar Trio feat. Veronika Harcsa & Kornél Fekete-Kovács (CZ/HU)
Featuring:
Vít Křišťan - piano
Robert Balzar - bass
Kamil Slezák - drums
Veronika Harcsa - vocals
Kornél Fekete-Kovács - trumpet
Characterizing silence with sounds is like depicting water with fire, dancing the immobility of stones. Now, however, trumpet player and composer Kornél Fekete-Kovács is undertaking this in a new production with the Czech Robert Balzar Trio and singer Veronika Harcsa, entitled Different Aspects of Silence. Kornél Fekete-Kovács met the Robert Balzar Trio two years ago, with whom his collaboration became regular. The common musical thinking has become complete with the popular Czech singer Dan Bárta with whom a full-hour show was recently recorded at the Czech Television studio in Brno. Most of the songs was composed by Kornél Fekete-Kovács, who feels the responsibility for this: as he says, behind each sound played there are all the sounds that were found in the silence, but they were deprived of the opportunity to sound. So the music determines, yet liberates, and this is also manifested in the musical concept: the composed themes alternate with collective, directed improvisations. The lyrics of the, elegant, intimate compositions were selected by Kornél from authors such as William Blake or the Sufi philosopher and poet Rúmi, and this time will be performed by Veronika Harcsa, who is also famous for her richness of tone. He also sang songs with similar themes on Kornél's previous album, entitled Foundations. During the days of the concert, there will also be a recording session, on which a 21st century student alienated from the experience of silence can get an even more nuanced musical picture of various aspects of silence.
Tickets are available for 2000 HUF on the spot, online at bmc.jegy.hu, and at InterTicket Jegypont partners across Hungary.
An immunity certificate recognized by the Hungarian Government is required to enter Opus Jazz Club. Please note that masks are also required while visiting, except when consuming food and drinks.
Table reservations are automatically added during ticket purchase.
For the best dining experience please arrive around 7pm.
We hold reservations until 8pm.
For more information, please call +36 1 216 7894
This concert was supported, in line with the Government decree 1290/ 2020. (VI.5) related to cultural institutions, in order to ease the economic difficulties caused by the Covid19 pandemic.
℗ BMC