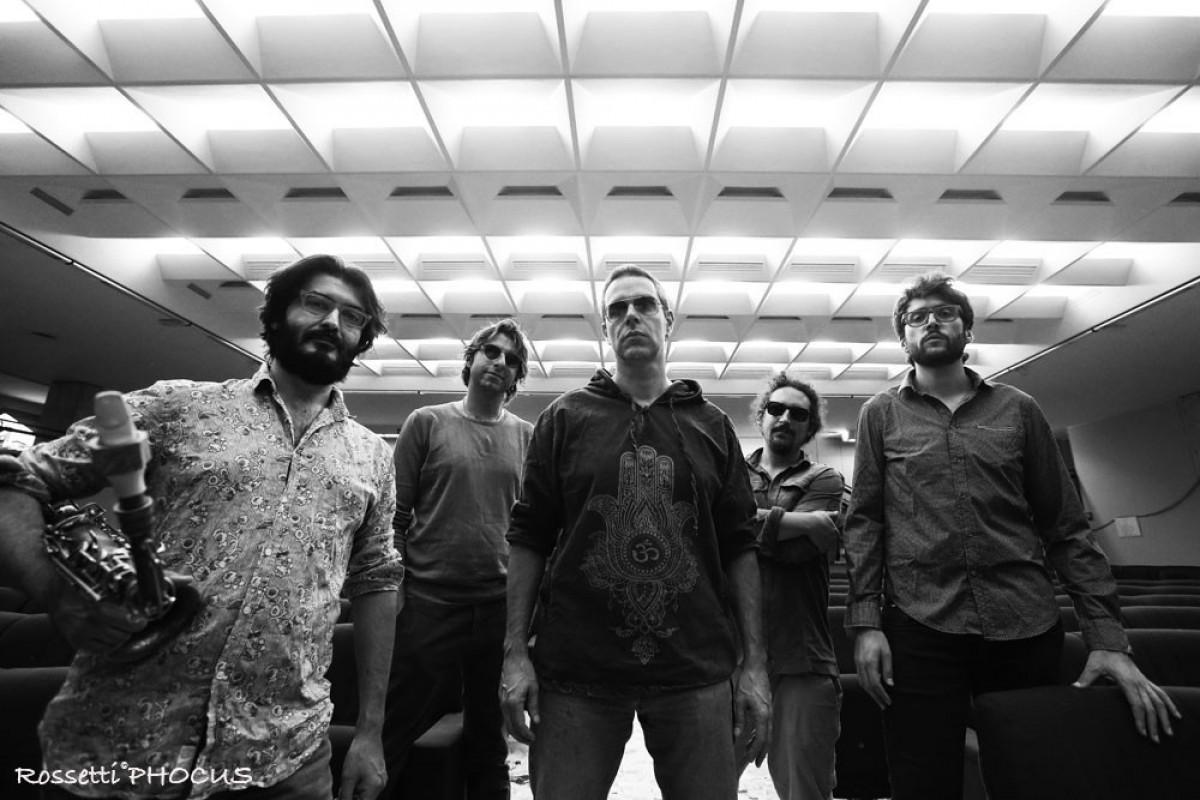 Sliders Trombone Trio | PBB's Bread & Fox (IT)
Featuring:
Sliders Trombone Trio:
Filippo Vignato - trombone
Federico Pierantoni - trombone
Lorenzo Manfredini - trombone
---
PBB's Bread & Fox:
Piero Bittolo Bon - alto sax, bass flute, clarinet
Filippo Vignato - trombone
Glauco Benedetti - tuba
Alfonso Santimone - piano
Andrea Grillini - drums
"A miniature orchestra, shining as the brass sheet from which trombones are constructed, travelling from the softest whispering to the wildest roaring"
Although brass quintets, trombone quartets and various size brass ensembles have been seen on classical music stages since hundreds of years, Italian trombone crew Filippo Vignato, Federico Pierantoni and Lorenzo Manfredini are searching for the ultimate essence of that concept by shaping and adapting the habits of improvised music language to a minimal set-up made up of only 3 identical instruments. If the trombone can be considered the closest instrument to the human voice, it is as well an instrument with infinite sonic possibilities, explored by the three musicians in a continuous evolution through jazz, new music, blues, folk, consort music and much more.
---
"There's a constant tension that comes from thick melodies being torn in two directions. Piero Bittolo Bon's Bread & Fox quintet has a heavy presence, and as sweet as their melodies are, the quintet brusquely shoves them around the song. Well, except when they don't. There are times when the quintet treats those melodies like precious creatures, and devise a nurturing environment for them to grow to full bloom. But in each instance, those melodies are clear as day and, in some instances, border on catchy. And more often than not, the change of tone happens within the duration of an individual song, keeping the ear on its toes and constantly guessing what might come next. There's nothing conventional about this music. And based on past history, normalcy is not something one should expect from a Piero Bittolo Bon project. But an abiding characteristic of his challenging music is that Bittolo Bon makes it easy connect to with it, and the only obstacle is in figuring out what the hell is going on. And that "obstacle" is also what makes this challenging music seriously fun."
(Dave Sumner)
Tickets are available for 2000 HUF on the spot, online at bmc.jegy.hu,
and at InterTicket Jegypont partners across Hungary.
Table reservations are automatically added during ticket purchase.
For the best dining experience please arrive around 7pm.
We hold reservations until 8pm.
For more information, please call +36 1 216 7894
℗ BMC