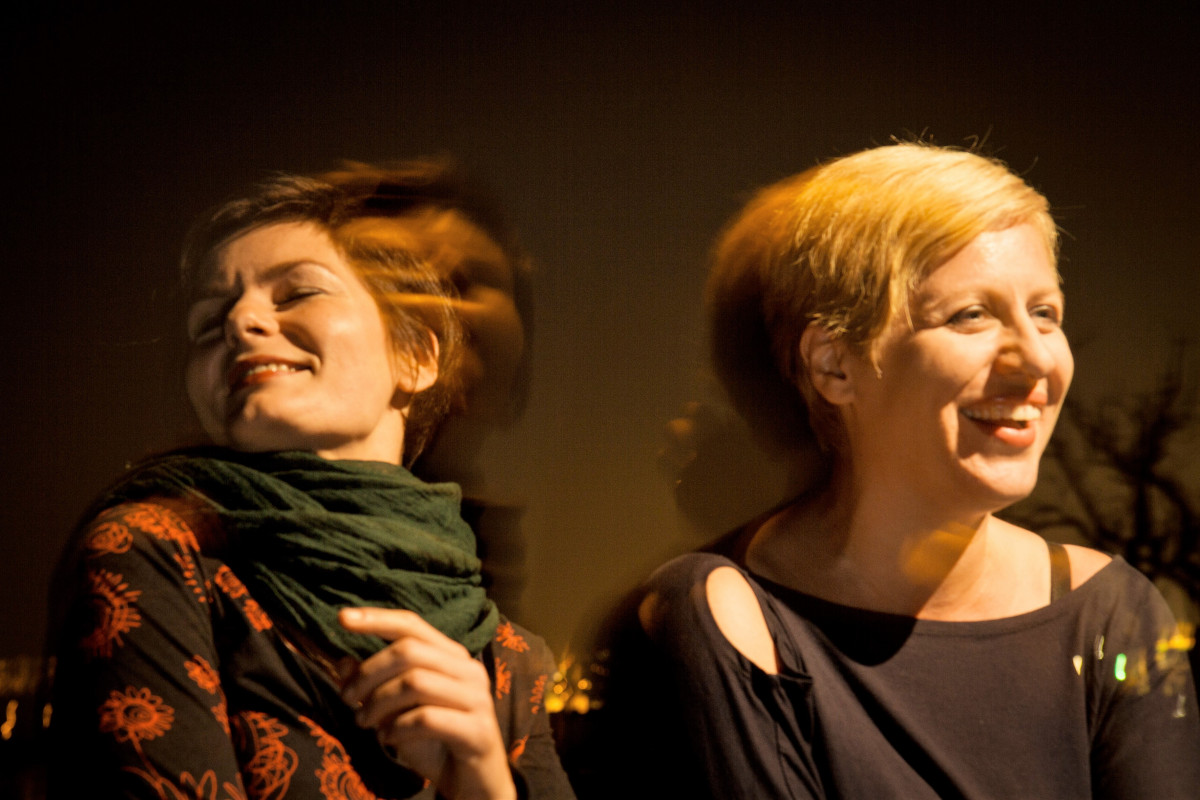 Featuring:
Andrea Konstankiewiczová - violoncello, vocals
Dorota Barová - violoncello, vocals
TARA FUKI - two women, two voices, two cellos and very intimate music. Their songs for two wooden bodies interlaced by caressing sound of Polish language create a fragile web of tones which, by a wave of a bow, can change into a dangerous trap. Tara Fuki's music is absolutely racy and uniqe, based on continually elaborated, delicately dynamic and expressive common improvisations. Enriched by reflections of different musical styles and the flavour of distant lands, the duo creates an original kaleidoscope of a feminine inner world.
Since their start in 2000, Tara Fuki has been successfully performing in concerts all across Europe. With their debut album Piosenki do snu they received in 2001 two Anděl awards, the "Czech Grammy", in the Alternative Music – World Music and in the Newcomer of the Year categories, and with Auris in 2007 again, in the World Music category. The same year they were the first Czech band ever having showcase at the WOMEX music fair, then in Sevilla, Spain. Their subsequent album Sens showed Tara Fuki in a quieter aspect, with fewer digressions in other genres with a more intimate but also more improvised music. Their latest album Winna (2014) offered an extraordinary musical experience, being silent and velvety as a night and powerful and ferocious as a spring stream at the same time. This critically acclaimed album brought the duo back to their roots, spending 3 months in the Top 20 of WMCE. Professional award at showcase festival Czech music crossroads 2015. The Best of Tara Fuki was released in the fall of 2015.
Tara Fuki got a professional award at the Czech Music Crossroads 2015 showcase festival. The duo performed at the Cairo Jazz Festival 2016 in Egypt, at Sounds of Words 2017 in Poland, and at the Waves Festival 2017 in Denmark.
Jegyek 1300 forintos áron kaphatók a helyszínen,
az InterTicket országos JEGYPONT hálózatában, valamint a jegy.hu oldalon.
Kérjük Önöket, hogy az Opus Jazz Clubba
váltott jegy mellé ne felejtsenek el asztalt foglalni!
Asztalt jeggyel, internetes jegyváltás esetén utalványazonosítóval rendelkező vendégeinknek tudunk foglalni.
Az asztalfoglalásokat legkésőbb 21 óráig tudjuk fenntartani!
Közvetlenül koncertkezdés előtt történő jegyvásárlásnál vendégeink a meglévő asztalokat érkezési sorrendben foglalhatják el.
Telefon
+36 1 216 7894