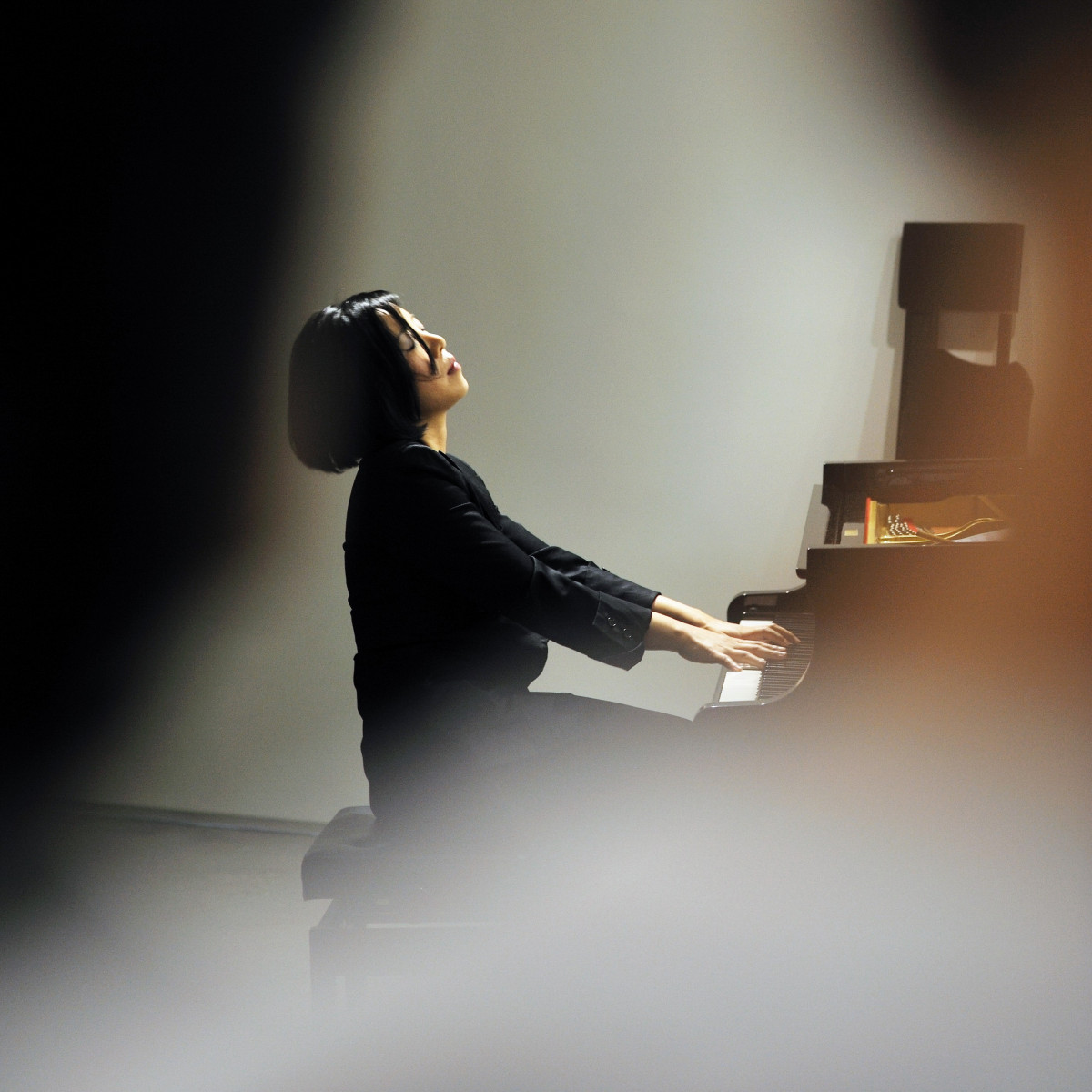 계수정 sOo's Collage Band (KOR)
Featuring:
sOo-Jung Kae - piano
Minhee Park - voice
Somin Kim - traditional Korean percussion
Chang U Choi - double bass
Kyung-ho Sohn - drums
Pianist, composer, improviser sOo-Jung Kae (계수정) is one of South Korea's leading musicians standing at the forefront of creative experimental music. After completing her major in classical piano performance at the Yonsei University in South Korea, she further studied piano performance at the Berklee College of Music and the Boston Conservatory in the U.S.A.
Her incessant thirst for new ways of expression finds her often collaborating with artists from different fields such as dance, film and visual art. One of the examples is her participation as a composer in a movie, With the Girl of Black Soil, which won awards at the 2007 Venice Film Festival. Her performance with distinctive style has led her to appear in numerous prestigious venues and festivals across the world including the USA, Germany, Cuba, Japan and Portugal.
This October, sOo-Jung Kae and her ensemble, 계수정sOo's Collage Band, will make their debut in Budapest at the Opus Jazz Club. Since 1999, this ensemble's music has been internationally acclaimed as "a melting pot of the 20th century classical music, Jazz, free improvisation, Korean traditional music and punk." For this concert in Budapest, five leading musicians from the different fields will team up with pianist sOo-Jung Kae: singer Minhee Park who specializes in Gagok (Korean traditional lyrical songs) and Sijo (traditional poems), traditional Korean percussionist Somin Kim, legendary drummer in Korean Rock n' Roll music Kyung-ho Sohn and jazz bassist Chang U Choi. They will share with the Hungarian audiences their own way of re-interpretation of classical, tango, jazz, contemporary and Korean traditional music based on the method of free improvisation. Set-list will include Panic, a piece influenced by Bartók's Mikrokosmos', 3324 Tango, inspired by Astor Piazzolla, and 2121, a composition that incorporates the rhythm of Janggu, a Korean traditional drum, among others.
Jegyek 1300 forintos áron kaphatók a helyszínen,
az InterTicket országos JEGYPONT hálózatában, valamint a jegy.hu oldalon.
Kérjük Önöket, hogy az Opus Jazz Clubba
váltott jegy mellé ne felejtsenek el asztalt foglalni!
Asztalt jeggyel, internetes jegyváltás esetén utalványazonosítóval rendelkező vendégeinknek tudunk foglalni.
Az asztalfoglalásokat legkésőbb 21 óráig tudjuk fenntartani!
Közvetlenül koncertkezdés előtt történő jegyvásárlásnál vendégeink a meglévő asztalokat érkezési sorrendben foglalhatják el.
Telefon
+36 1 216 7894