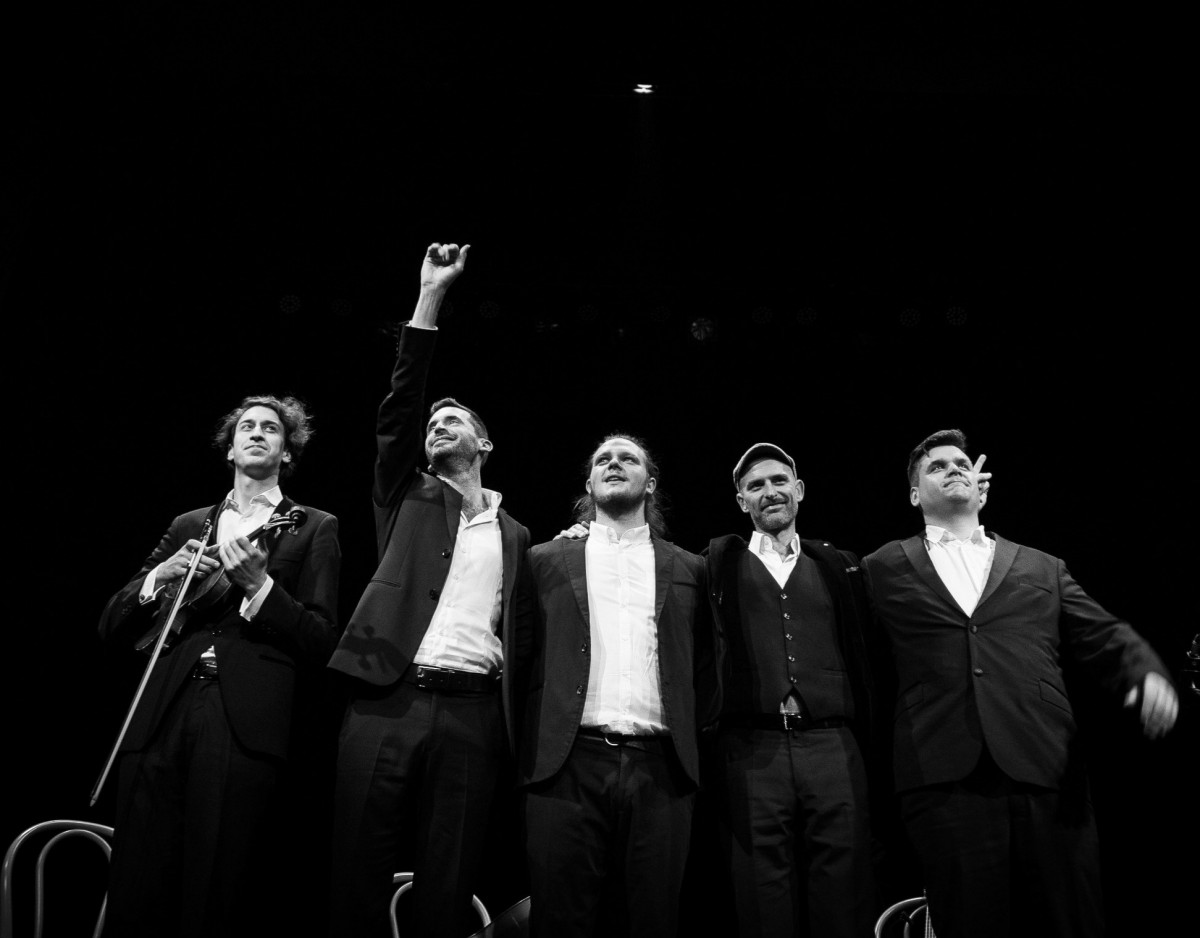 SlovenijaJazz & Beyond | Teo Collori & Momento Cigano (SI)
Featuring:
Teo Collori - lead guitar
Matija Krečič - violin
Matej Kužel - clarinet
Metod Banko - guitar
Jošt Lampret - double bass
The band plays an extraordinary medley of gypsy and swing music. It is a project where nostalgia blends with new stories, as the boys perform fresh, original songs, in a style that takes us back to the era of ballrooms, cigars, Charleston and lacquered shoes. The band is made up of college educated musicians who also perform pop music accompanying the famous Slovenian artist Magnifico.
Their first record, entitled Hot Club Piran, was chosen as "Album of 2015" at the online music portal of the Slovenian coastal area, Muzikobala. In 2016 their quality was recognized in the USA as well, where they published a record with the renowned Lowtemp label. Second (Kamerato Muzikante-2018) and third album (Molto Aligatore) are flirting with Classical, Etno and Movie Music.
In october 2021 they recorded a live concert with Big Band Rtv Slovenia where Teo was the main soloist. It is a great honor for a instrumentalist and a composer that his original music was arranged by Maestro Lojze Krajnčan. In the programe were Momento Cogano songs from all three albums. The album is called Gitara parlante.
"In an inflationary number of groups worldwide that are copying, replicating or using the repertoire of The Quintet of the Hot Club of France Teo Collori presents his own music just reminding us of that sound. The presence of clarinet associates with the Django's (Reinhardt) quartet without Grappelli, and in his case, I find a successful contribution to the sound of an ensemble with strings. The partner collaboration of Collori and violinist Krečič is original and enviable in both performance and arrangement. Collori creates music that invites audience to feel and experience, not just listen. His approach to his guitar gives me pleasure and inspires respect." (Svetolik Jakovljević, jazz publicist)
Tickets are available for 2500 HUF on the spot, online at bmc.jegy.hu, and at InterTicket Jegypont partners across Hungary.
Table reservations are automatically added during ticket purchase.
For the best dining experience please arrive around 7pm.
We hold reservations until 8pm.
For more information, please call +36 1 216 7894
℗ BMC