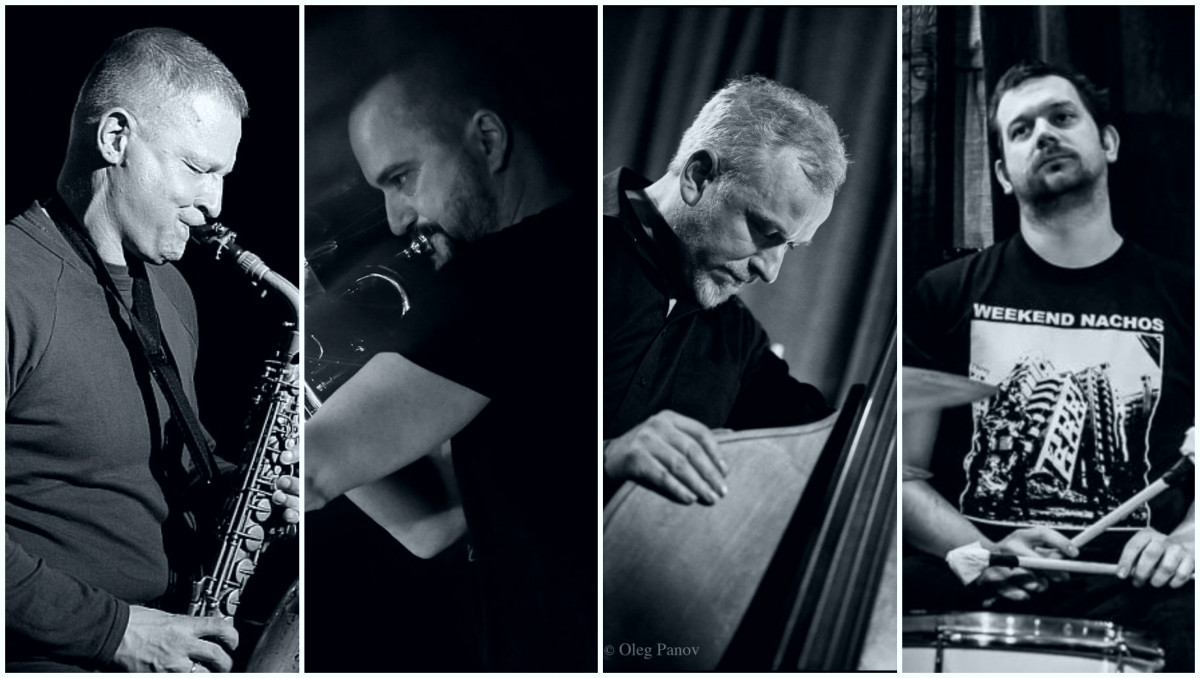 EurOpus | Trzaska – Vrba – Tokar – Pándi (PL/CZ/UA/HU)
Featuring:
Mikołaj Trzaska - saxophone
Petr Vrba - trumpet
Mark Tokar - double bass
Balázs Pándi - drums
On October 14, a quartet of international improvisers from four countries – Poland, the Czech Republic, Ukraine and Hungary – will be performed on the stage of the Opus Jazz Club. The lead musician of the project is the saxophonist Mikołaj Trzaska, an icon of Polish jazz. Composer, saxophone and bass clarinet player. He is the co-founder and saxophonist of the legendary Miłość. As a film composer he is also significant and he has collaborated with musicians such as Clemetine Gasser, Noël Akchoté, Peter Friis Nielsen, Paul Wirkus, Johannes Firsch, Peter Ole Jorgensen, Leszek Możdżer, Peter Brötzmann, Joe McPhee, Tomasz Stańko and Ken Vandermark.

Hungary is represented by Balázs Pándi – who is well known on the world stages for noise, break core, doom metal and improvisational music. Amond others, he has collaborated with Merzbow, Venetian Snares, Zu, The Kilimanjaro Darkjazz Ensemble, Mats Gustaffson, Keiji Hano.
Representative of the Czech improvisation scene is Peter Vrba, a trumpet player, multi-instrumentalist, who has gained recognition in the field of free improvisation. He most often uses trumpets, clarinets, vibrating speakers, and various "objets trouvés". He is considered the most important musician in the Czech experimental music scene. He has worked with a number of notable artists such as Xavier Charles, Kai Fagaschinski, Chris Heenan, Christof Kurzmann.
Ukraine is represented by double bassist Mark Tokar, a key figure in Ukrainian improvisational music. He is the first Ukrainian musician to have the opportunity to make his debut at the prestigious Chicago Jazz Festival in 2012. His first album, Yatoku (with Yuri Yaremczuk and Klaus Kugel), was released on Polish Not Two Records in 2006. Then Mark Tokar's career suddenly curved upwards. He has been a permanent member of Ken Vandermark's legendary Resonance Project since 2007.

The opportunity for the artists to meet can be found in Polish Jazz / Neighbors (Polish Jazz / Sąsiedzi). project provided by the Firlej Cultural Center in Wrocław and the Adam Mickiewicz Institute, which promotes Polish culture abroad.
Tickets are available for 1800 HUF on the spot, online at bmc.jegy.hu,
and at InterTicket Jegypont partners across Hungary.
Table reservations are automatically added during ticket purchase.
For the best dining experience please arrive around 7pm.
We hold reservations until 8pm.
For more information, please call +36 1 216 7894
℗ BMC