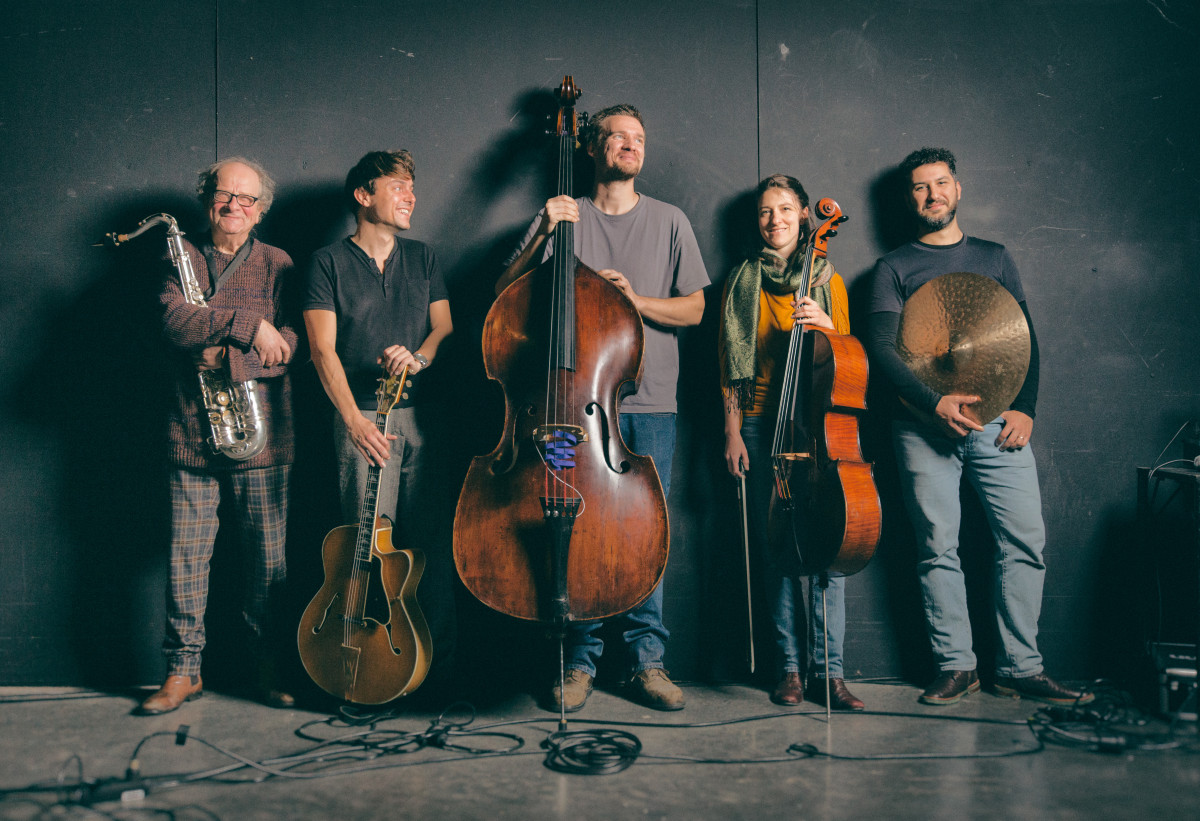 Flanders on the Move | Laughing Bastards (BE)
Featuring:
Michel Mast - tenor saxophone
Jan-Sebastiaan Degeyter - guitar
Eline Duerinck - cello
Cyrille Obermüller - double bass
Marcos Della Rocha - drums
Gallery tickets will be available on the spot even if the online ticketing system tells you that the show is sold out. Please order your drinks downstairs at the bar if you are seated on the gallery.
Born of the countless, turbulent and illegitimate love affairs that jazz had with all the music in the world: Laughing Bastards.
Bastard music as a manifesto, the lyrical as a common denominator, interwoven interplay as a starting point. Laughing Bastards is the alchemy of the youngest generation from the booming Ghent jazz and improv scene and the experience and hunger for innovation of an old hand in the field. Together they profess their love for the jazz tradition, with a quirky twist. Founded as a trio in 2012, the group focused on the fascinating music of Jimmy Giuffre for its first album. Then, with drummer-wizard Lander Gyselinck on board, the group evolved into a quartet and released its second album Old Masterplans. This resulted in a tight, lyrical sound and appreciation flowed from both public and media. Since 2018, Laughing Bastards has been operating as a quintet. The warm and rich middle register with sax, cello and guitar full-fills the new ambitions. This third album Unanimal was released in December 2019. Thanks to a number of residencies (CC de Steiger-Menen, KAAP-Bruges), the group continued to work on a new, original repertoire in 2021.
In 2020-2021, Laughing Bastards had a well-filled agenda, swiped away by "you know what". In 2022, with the cruising speed in sight, there will be stops along the way including concerts in Budapest OPUS BMC, Jazzcats Festival Kortrijk, the Ververij Ronse, to name a few.
Tickets are available for 2500 HUF on the spot, online at bmc.jegy.hu, and at InterTicket Jegypont partners across Hungary.
Table reservations are automatically added during ticket purchase.
For the best dining experience please arrive around 7pm.
We hold reservations until 8pm.
For more information, please call +36 1 216 7894
℗ BMC