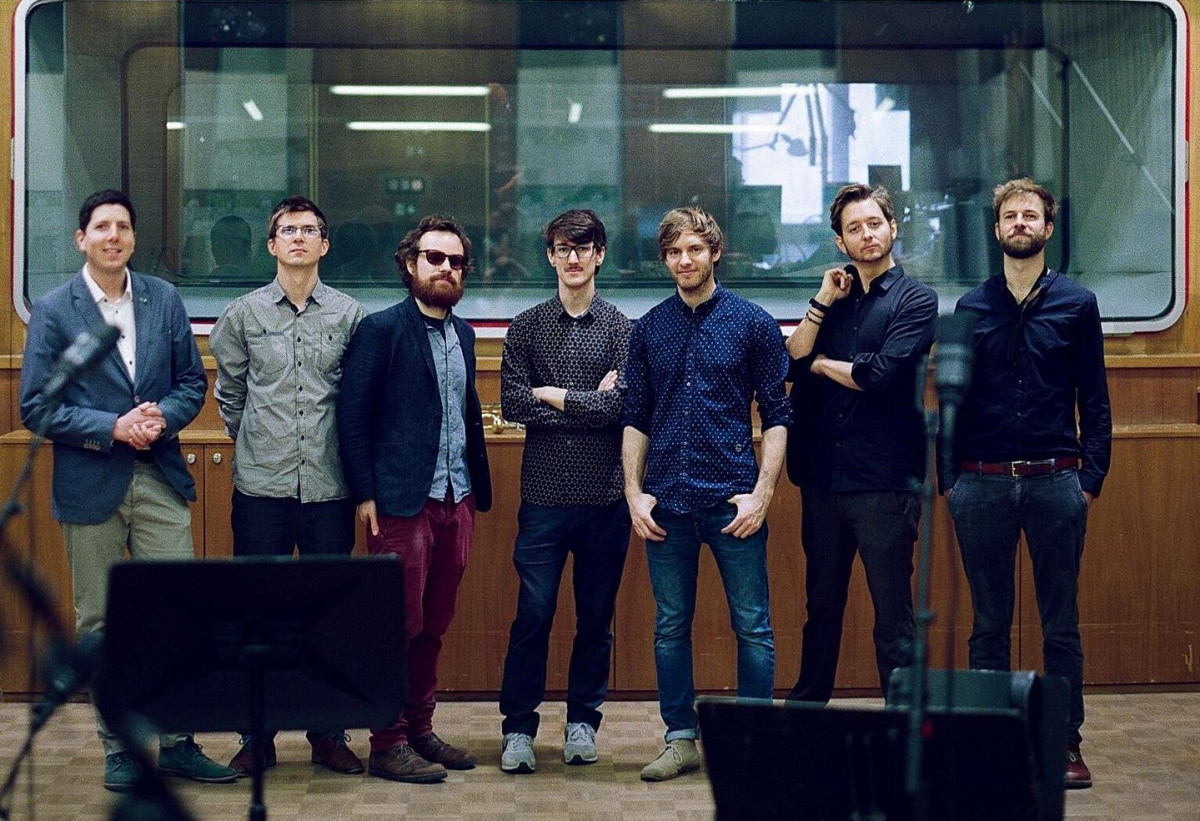 j(A)zz! | Aufmessers Schneide (AT)
Featuring:
Gregor Aufmesser - double bass, compositions
Dominik Fuss - trumpet, flügelhorn
Lukas Schiemer - soprano and alto saxophone
Leonhard Skorupa - tenor saxophone, clarinets
Alois Eberl - trombone, accordion, harmonika
Lukas Kletzander - piano
Lukas Aichinger - drums
Double bassist Gregor Aufmesser first stepped on the scene in 2014, when his newly founded 7-piece band Aufmessers Schneide first performed at JazzWerkstatt Festival in Vienna. Four years later their debut album Orbs created quite a stir within the Austrian jazz scene. It was the mysterious beauty of quantum physics that inspired composer and band leader Aufmesser to create his first album. This may sound slightly unusual, but in fact the strange chaos and intimate connections found in the depths of the universe are an excellent analogy for this group of unique musical individualists. Just like particles each musician seems to have a life of his own while always staying closely connected to the group, floating in a constant state of flux and communication. The compositions themselves are the perfect environment for these opposite worlds, balancing classical counterpoint and sprawling, Charles Mingus-inspired jazz landscapes, intellect and emotion.
Another pervasive trait of Aufmesser's work is his characteristic brand of quirky humour. His tongue-in-cheek commentary on the bizarre twists and turns of life (particularly the unique absurdities of life in his native Austria) are even more obvious in Aufmessers Schneide's newest album Stereo Friction (2022). Even the music itself seems to be becoming increasingly eclectic. Whereas other Austrian bands tend to have distanced themselves from the jazz idiom, Aufmessers Schneide tries to stretch the boundaries of the genre without losing sight of the band's particular strengths - their expressiveness, their diverse musical personalities, their inspired interpretational style. It seems Aufmessers Schneide, just like quantum physics, simultaneously contains an endless number of possibilities. You never know what will emerge out of the mist of probabilities.
Tickets are available for 2500 HUF on the spot, online at bmc.jegy.hu, and at InterTicket Jegypont partners across Hungary.
Table reservations are automatically added during ticket purchase.
For the best dining experience please arrive around 7pm.
We hold reservations until 8pm.
For more information, please call +36 1 216 7894
℗ BMC