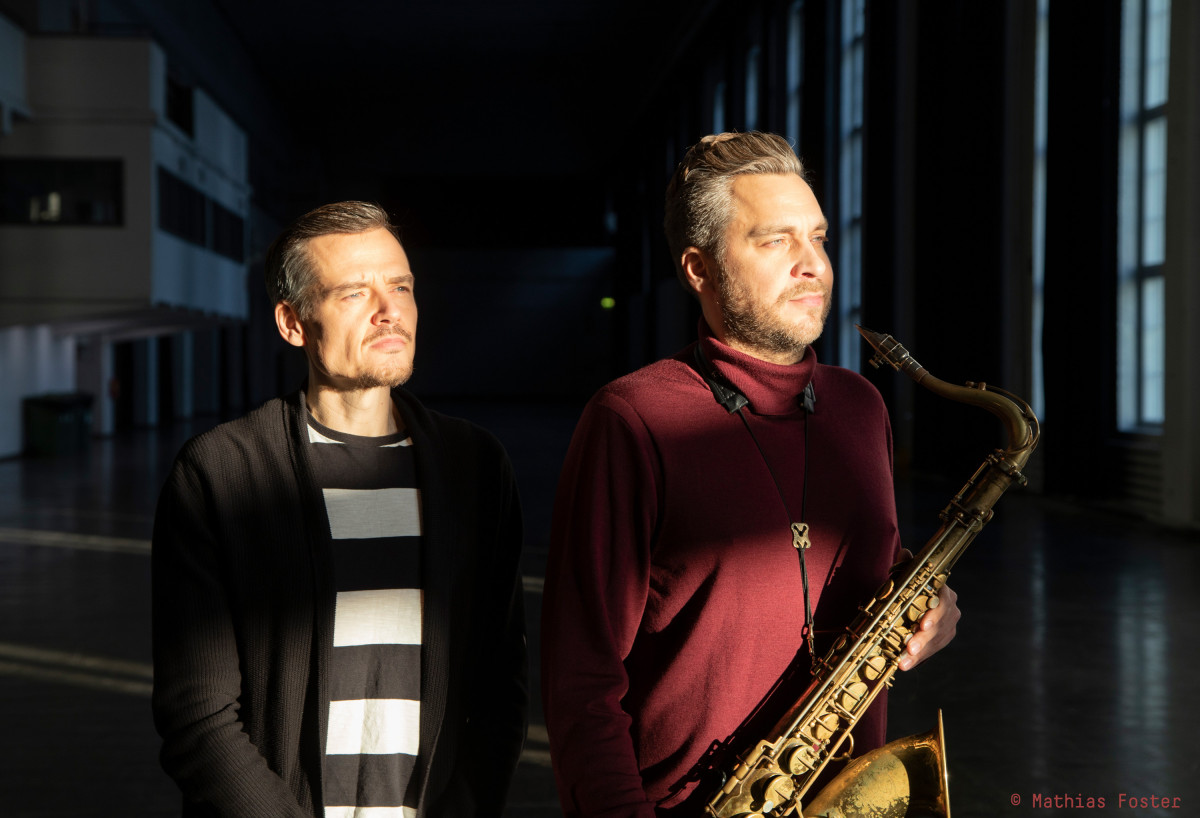 New Jazz From Finland | Timo Lassy & Teppo Mäkynen (FI)
Featuring:
Timo Lassy - saxophone
Teppo Mäkynen - drums
Combining forces as a duo these two household names of Finnish jazz, saxophonist Timo Lassy and drummer Teppo Mäkynen, are here to present their powerful music at full speed. Whilst sensing co-operation that has lasted over a decade playing together in various bands (Teddy Rok 7, The Five Corners Quintet, Jo Stance, Timo Lassy Band) there is a feel of freshness, excitement and something new when listening to debut album Timo Lassy & Teppo Mäkynen, released on We Jazz Records a couple of months ago. In a live setting the full energy is released taking directions from the moment, feeling the audience and most importantly musical dialog of saxophone and drums.
Timo Lassy is perhaps the biggest jazz star to come out of Finland in the new millennium. His work with The Five Corners Quintet and then as a successful solo artist have placed him smack dab in the middle of the vivid activity in the Helsinki scene. Lassy, a remarkably charismatic performer, has taken his celebrated five-piece all around Europe, the US and faraway places like Brazil, and in Finland he's practically a household name. His tenor sax sound is robust and confident, but never fails to engage emotionally. On his new duo album Timo Lassy & Teppo Mäkynen, Lassy moves further away from the cooking soul jazz he's best known for, into free playing and sonic experiments. That being said, there's still plenty of classic Lassy in the mix, keeping the heat where it should be. Timo Lassy won the Jazz-Emma prize for the Finnish Jazz Album of the Year in 2018 with his sixth solo effort Moves.
Teppo Mäkynen is a drummer and a producer from Helsinki. His work includes celebrated projects such as 3TM, The Stance Brothers (+ Jo Stance), Teddy Rok Seven, plus many more. As a drummer, he was a key part of the live band of The Five Corners Quintet, still the most internationally successful Finnish jazz outfit to date. Nowadays, Mäkynen mans the drum seat of not only his own projects, but also A-list bands such as Timo Lassy Band, Verneri Pohjola Quartet, Aki Rissanen Trio and Jukka Eskola Soul Trio. His playing is swingin' to the bone, no matter what the style is. Mäkynen has a natural knack at envisioning new musical directions both as a composer and a player, and he's considered one of the most personal and musical drummers around. As a producer, he's also known as "Teddy Rok", and his production credits include Timo Lassy's solo albums and those of Jukka Eskola, plus of course his own projects. Mäkynen has won the Jazz-Emma twice: in 2004 with Teddy Rok Seven and in 2017 with 3TM's album Form. He is also one of the hosts of the very popular weekly show Jazz kiinnostaa (Jazz interests) on Radio Helsinki.
---
New Jazz From Finland Afterparty w/ Matti Nives from We Jazz DJs
Saturday, 30 November 2019 from 22:00 at Opus Jazz Club
After the concert of Timo Lassy & Teppo Mäkynen, Matti Nives will be giving a special DJ set with his vinyl favorites to close this year's New Jazz From Finland weekend. Entry to the afterparty is free, please follow the Facebook event for any announcements.
---
Tickets are available for 1800 HUF on the spot, online at bmc.jegy.hu,
and at InterTicket Jegypont partners across Hungary.
Table reservations are automatically added during ticket purchase.
For the best dining experience please arrive around 7pm.
We hold reservations until 8pm.
For more information, please call +36 1 216 7894
℗ BMC