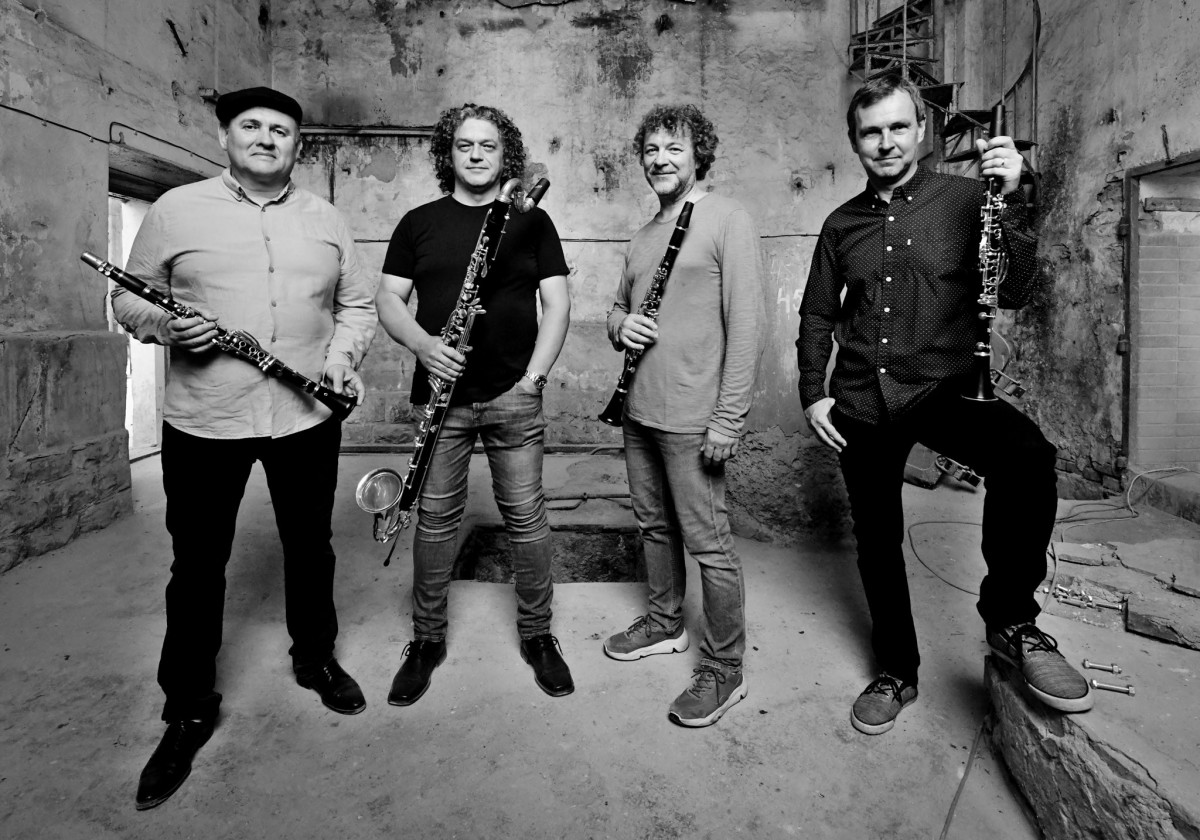 Czech Autumn | Clarinet Factory (CZ)
Featuring:
Jindřich Pavliš - clarinet, contrabass clarinet
Jiri Javurek - clarinet
Petr Valášek - bass clarinet
Vojtěch Nýdl - clarinet, vocals
The programme called Pipers tells the story of four players – "clarinet pipers", who have known each other since they were teenagers. It brings what they touched and found traveling around the world and in their lifetime with music. A story about Experience that is about meeting people, culture, landscapes and food and of course music. It talks about what the members of the band found back at home, too. It tells about their "lost and founds" while experimenting with mixing genres. It tells about styles and musicians they love and who inspired them.
Jindrich Pavlis, the band leader:
"We love the Czech and Moravian folk tunes, because everyone of us grew up in families singing and playing together. And we also love diversity of world music, of other cultures and national traditions. We love classical music of Smetana, Dvořák for their passion, Debussy for colours and Bach for timeless order. And contemporary composers for their courage. We admire Miles Davis as well as traditional big bands. We love rock or pop bands as Pink Floyd or Tower of Power for their mysterious energy and electronic dance music scene for their tribal rhythms and fantastic tools they use to make sound.
Our compositions, improvisations and songs express everything we described above. And what is important, the genesis of the pieces is always a teamwork, just like the rock bands often do. Clarinet Factory is not only about precise clarinet playing, but all the members are also educated in classical music at the highest level, and they still play in top symphony orchestras and bands.
But Clarinet Factory crosses the borders more than you can imagine. We are not only clarinet players. All of us can sing or play other instruments and this sound experience we also entrenched into our band style and sound. We dig on all styles, make improvisations as well as compositions. Vojtech sings and brings lyrics and tunes for songs, Ludek works on the minimalistic structures, Pepino imitates bass guitar, drums, or saxophones (and all together) on his bass clarinet. And Jindrich is the person who takes care to keep all these different elements and personalities together. And all of us control electronics, loopers and various effect processors to make the sound deeper, richer, or mysterious".
Tickets are available for 1800 HUF on the spot, online at bmc.jegy.hu, and at InterTicket Jegypont partners across Hungary.
Table reservations are automatically added during ticket purchase.
For the best dining experience please arrive around 7pm.
We hold reservations until 8pm.
For more information, please call +36 1 216 7894
℗ BMC