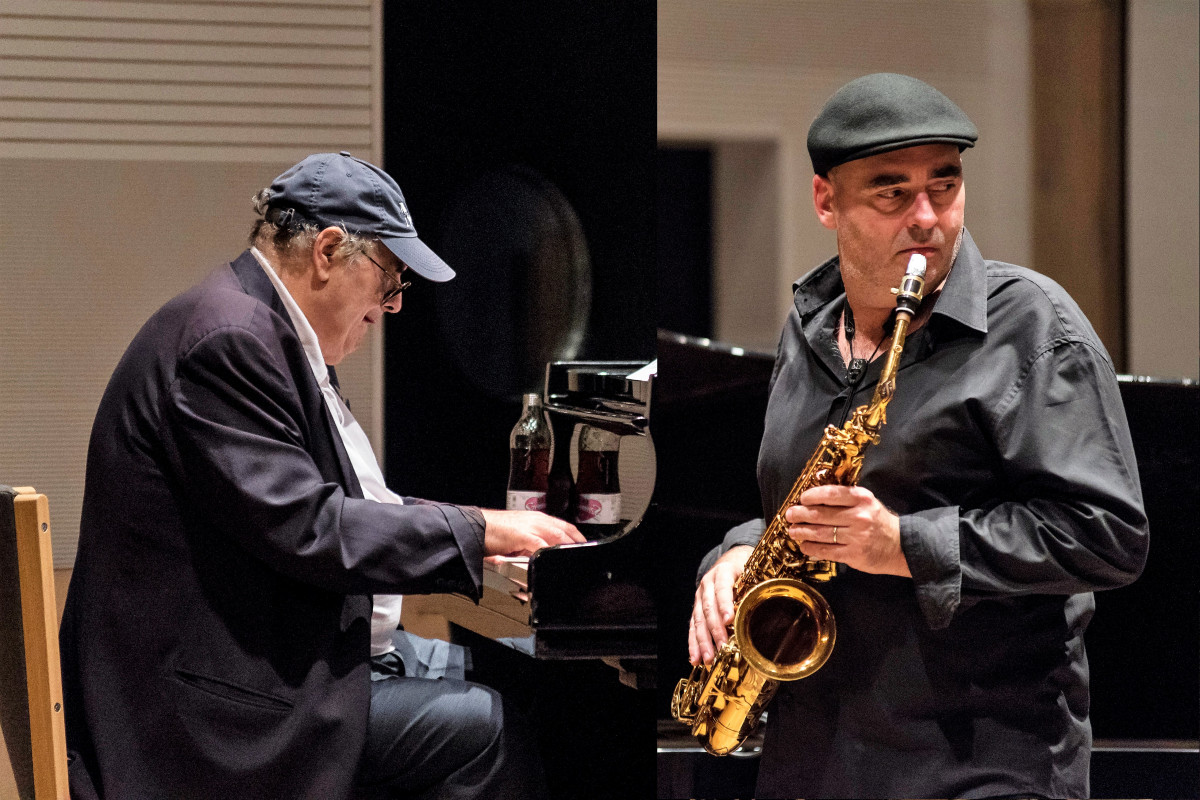 Szakcsi - Monniot - Barcza - Balázs: Density of Standars – BMC album debut concert
Featuring:
Szakcsi Lakatos Béla - zongora
Christophe Monniot - saxophone
Barcza Horváth József - nagybőgő
Balázs Elemér - dob
Rarely is such a 'density of standards' encountered on BMC Records CDs as in this selection by bandleader Szakcsi and his quartet. It is hard to recall the last time Szakcsi felt as leisurely, truly a homo ludens, playful as a partner and as a soloist, being inspired and inspiring in the studio, as in these sessions.
Elemér Balázs was the most obvious choice for this recording of 'straight ahead' and standards material. With all the experience he has, he supplies a rhythmic basis with zest, and is always on the lookout for any space that could be filled to embellish the music. The other half of the high-precision instrument that this rhythm section resembles is bass player Barcza. If you listen to him, you might well be reminded of what Szakcsi is famous for: being an ebullient romantic.
The unmistakably individual French sax player Monniot forms an experienced and mutually respectful duo with Szakcsi, even if they are an odd couple by any standards, suffice to consider the rhythm of their voicing. Monniot is an outstanding player of his generation in France, he has been featured by bandleaders or as a member of Daniel Humair's excellent Baby Boom, the Moutin Factory Quintet, the Station MIR, the Guillaume Roy Quartet, François Raulin, as well as David Chevallier.
Monniot, unlike your average sax player, while putting all his heart, and lung capacity, into his playing, is prepared to show how fragile he is. His vibrato and the bending of his melodies resemble the sighs of his deep soul, but within a bar may take an abrupt turn to the ironic. Monniot has a pretty universal vision of the world, and is able to show the reverse side of things that inspire him. When he and Szakcsi take a tune to new heights they also invite the other to explore new ground. This is how the succession of old-school evergreens becomes new material, the medium and the message of playing. Rather than robbing the listener of the pleasure of recognizing well- known standards, their new interpretations remind us that imagination has no bounds.
(from the booklet text by Kornél Zipernovszky)
Jegyek 1800 forintos áron kaphatók a helyszínen,
az InterTicket országos JEGYPONT hálózatában, valamint a jegy.hu oldalon.
Kérjük Önöket, hogy az Opus Jazz Clubba
váltott jegy mellé ne felejtsenek el asztalt foglalni!
Asztalt jeggyel, internetes jegyváltás esetén utalványazonosítóval rendelkező vendégeinknek tudunk foglalni.
Az asztalfoglalásokat legkésőbb 21 óráig tudjuk fenntartani!
Közvetlenül koncertkezdés előtt történő jegyvásárlásnál vendégeink a meglévő asztalokat érkezési sorrendben foglalhatják el.
Telefon
+36 1 216 7894